Our good friend Larsen Jay of Knoxville, TN, was the Executive Producer of this amazing film, and we were lucky enough to be at the premiere and meet some of the cast and crew.  As a geriatric social worker, the film was especially moving to me, and I highly recommend this as a must see.  It is PG-13 so plan a date night with your special someone soon!
Tennessee audiences get a chance to see the critically acclaimed feature film – shot entirely in East Tennessee – and starring legendary actor Hal Holbrook
KNOXVILLE, Tenn.,—those are the courthouse steps in downtown Knoxville and that farm house looks similar to the ones many moviegoers have passed on Tennessee's back roads. Tennesseans will enjoy a familiar landscape as they see the feature film "That Evening Sun."
After successful runs in New York City, Los Angeles and Palm Springs, "That Evening Sun" launches a multi-city release on January 22nd, opening in Knoxville, TN at the Regal Cinema's Downtown West 8.
"That Evening Sun" was filmed entirely in East Tennessee, specifically in the Knoxville, Rockwood and Lenoir City areas. It is based on the short story I Hate to See that Evening Sun Go Down by acclaimed Tennessee author William Gay.
"That Evening Sun" has won top prizes at 11 film festivals including Austin's South by Southwest, Nashville, Atlanta, Sarasota, Little Rock, Newport, Indie Memphis, Sidewalk, Secret City, New Hampshire and Naples International Film Festival. The film also received the Wyatt Award from the Southeastern Film Critics, presented for the film that best represents the South.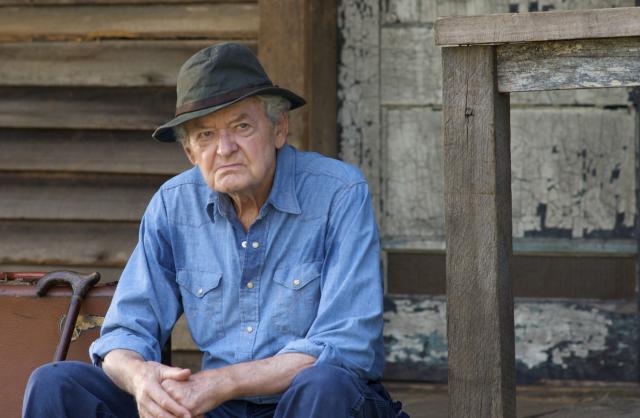 The film stars Hal Holbrook (Into the Wild, All the President's Men, The Firm, Wall Street), Ray McKinnon (The Blind Side, O' Brother Where Art Thou?, Deadwood), Walton Goggins (The Shield), Mia Wasikowska (In Treatment, Tim Burton's Alice), Carrie Preston (True Blood, Sex in the City, My Best Friend's Wedding, Duplicity), Dixie Carter (Designing Women), Barry Corbin (No Country for Old Men, The Closer, Northern Exposure).
Visit www.ThatEveningSun.com to view the trailer, check show times, purchases tickets and learn more about "That Evening Sun."
"That Evening Sun" is produced by Dogwood Entertainment, the film division of Knoxville-based DoubleJay Creative. The film is distributed by Freestyle Releasing.