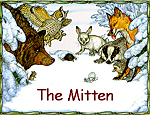 I have posted these before, but I thought I'd remind you about these sites.
Here are a few free printable sites I thought those of you with children might like to check out. If you know of any others, please post information in the comments section.
Author and illustrator Jan Brett's website is full of free printables for children. Everything from activity and coloring pages to cards and bookmarks are available.
The Dover Publications website offers free samples each week. Upon signing up for the program, they send samples to your e-mail address each Friday which often contain coloring and activity pages for children. Their sticker and coloring books have more than once saved my sanity when traveling with our 3 year old!