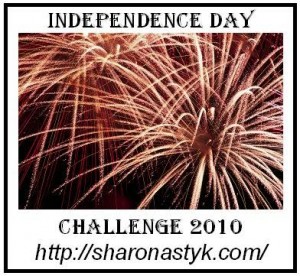 We participate in Sharon Astyk's Independence Days Challenge.   This is our weekly update. 
Plant—The weather has been so nice in our area lately.  I've soaked up as much sunlight as I can.  Daughter and I planted 400 onion sets—red, yellow, and a few white.  I realized that I haven't ordered my seed potatoes yet, and I'll try to get that accomplished before the day is done.
Harvest—We picked some of the spring onions. 
Preserve—Nothing preserved this week.
Waste Not/Reduce Waste— I'm challenging myself to generate less trash.  At present our family generates one bag of trash per week.  I'm going to see how we can reduce that amount.  Also, I'd like to find ways to generate less to be recycled.  We took the recycling to the center, and I'm appalled at how much recycling we have.  We have taken our names off of about every mailing list possible but I could take a bin of paper to the recycling center almost every day.  Now that I receive the newspaper daily, I'll be working on reusing the paper in different ways.  (Use it for a base layer for mulch in walkways, use it more often for wrapping paper and packing materials, compost it.)
In planning for our daughter's birthday party, we are working on making it a low waste party.  We'll use real plates, platters, silverware and cups.  I bought some paper napkins simply because I didn't have enough cloth napkins for all of the children and parents. 
Want Not/Prep/Storage—I was at the mall this week on an errand, and I was sooooo tempted to buy some clothes and shoes.  Mind you, I do not need any clothes or shoes.  I wanted to buy some for our daughter as well.  Again, she doesn't need any clothes or shoes either.  I like to buy clothes ahead of time for her so that we aren't caught off guard with a growth spurt.  I plan on picking up some things at the church spring bazaar and a few consignment sales.  I'm working on using what we have and buying second hand as a way of generating less waste overall. 
Building Community Food Systems—I make the meals for the children's program at church on Wednesday nights.  This Wednesday will be taco night, and a friend at church who owns cattle has donated local beef for us to use.  The children do not meet in the summer months.  I plan to work with some of the ladies at the church this summer to preserve foods from our church garden to use for the children when they are in session.  Even if we only accomplished a few jars of green beans, it would be a healthy food that was locally grown and essentially free. 
I picked up a case of locally made salsa from our food co-op Three Rivers Market.  I stocked up on some bulk items while there, and I ordered a case of organic cheese to split with a friend.  I just received our Sweetwater Valley Farm buttermilk cheese, but I thought that the cheddar cheese would be nice to have on hand as well. 
Earth Fare had a great coupon this week that offered patrons a free pound of coffee and free box of granola with purchase.  Our entire house smelled so yummy from the freshly ground coffee when I brought it home.  I donated the shade grown, organic coffee to the church for its use since the likelihood of me using that much coffee before it staled was slim.
Eat the Food— Monday's supper of venison steak, black eyed peas, roasted butternut squash was yummy.  The squash and steak were local (squash grown in our yard and deer taken from our land in West TN).  I find myself wandering down to the asparagus bed a few times each week to see if any have sprouted.  This is our second year to have that bed, and I know we can only take a few of the asparagus to enjoy this year.  (Year one—take none.  Year two—enjoy a few.  Year three—more for me!)  How excited I will be to bite into the first one from our garden!