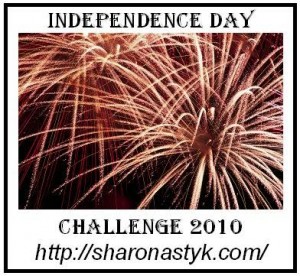 We participate in Sharon Astyk's Independence Days Challenge.   This is our weekly update. 
Plant—I was very busy this week and didn't plant anything.  I hope to get a few onions in the ground this week.
Harvest—We picked some of the spring onions (red onions).
Preserve—Nothing preserved this week.
Reduce Waste—We had plastic, aluminum, paper, and cardboard recycling at The Knoxville Coupon Fair this weekend.  I'm forever grateful to our sweet Mr. John who took all of the recycling to the center for us in his truck.  Hubby and I aren't sure how to handle house guests and keeping the thermostat turned down.  Our family is now so accustomed to having the thermostat set on low that we get hot when it is a little higher at night.  I bagged up some clothes to donate to the church rummage sale. 
Prep/Storage—Hubby cleaned off the back porch.  I finally put the house back in order, and it did wonders for my clarity of thought.  Having the place neat(er) and clean does wonders for my mood and productivity.  Other than that, we didn't do too much in this area.
Building Community Food Systems—We collected a few things for the food pantry at the coupon fair.  The baby formula went to another coupon blogger's church, and the rest stayed for our church's outreach programs.  Frugally Farming Family had great info on food preservation, homesteading, and farming.  We had another booth offering information about the Angel Food Ministry program.  Mr. Clyde, a church member, was inviting people to join us in our tamale making days and inviting members of the community to the free tamale dinner (March 20th if you happen to be in Knoxville!  All are welcome!)  Three Rivers Market, our local food co-op, did a fantastic job of highlighting just what a food co-op actually is and how they can help the community save money—love those gals!  We had many more booths giving out information on budgeting, stockpiling, and saving money.  We gave out at least 3 boxes of food to people at the fair from our food pantry. 
Eat the Food—We finished off one of the quart bags of local blueberries we picked this summer.  I think we have one more left.  Can't wait for fresh out of our yard!  Yesterday's breakfast was nice because we were thrilled to have local sausage and local eggs.  Our farmer friend has been out of sausage until recently, and we were glad to stock up.  Our friend who has chickens passed on a dozen eggs to us, and I can't wait until they are laying more as the weather warms.