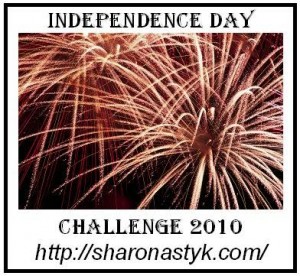 We participate in Sharon Astyk's Independence Days Challenge.   This is our weekly update. 
Plant—We didn't get anything into the ground this week.  I'll try to plant the first wave of beets when the garden dries out a bit. (We had a bit of rain off and on near the end of last week and over the weekend.)
Harvest—We picked some of the spring onions. 
Preserve—I added 4 quarts of vegetable soup to the freezer.  My sister brought me some more venison from the deer that my brother-in-law took this weekend.  We added it to our stored meat in the freezer.
Waste Not/Reduce Waste— We didn't do any better this week with our garbage as compared to last, which was a little disappointing.  Yet the fact that we had the same amount of trash even with guests in town, our daughter's birthday, and the prep work for her party I guess is a positive.  We recycled what we could at her party at the church, and we used read plates, cups and silverware for most of the dishes.  (We ran out of plates and had to switch over to paper plates.  We didn't have enough punch cups and used some paper cups.)  The castle that my husband made out of refrigerator boxes was moved to the church basement after the party was over in hopes that the church can use it for the children's program before recycling it.
We ate leftovers from the party on Saturday evening and Sunday to avoid food waste. 
Want Not/Prep/Storage—I bought some teas, organic lollipops, and eco-friendly toothpaste from Frontier.  I added some canned corn and green beans to the pantry. 
Building Community Food Systems—I picked up local milk for our group of friends.  I worked with a friend on a group order from Frontier co-op.  I worked in the food pantry for a little while last week, and I have a lot more to do this week.  I've been helping some with the annual FREE tamale and chili supper at church (March 20th, 5-7pm, all are welcome), and I'll be doing some more shopping for that this week.  The stewardship committee met this week at our home, and we planned a pancake breakfast for March 28th (again, all are welcome). 
Eat the Food— The birthday party food was pretty special, and it was so nice to see so many people enjoying it.  It pained me a little to use so much of our homemade jam on the cream cheese and strawberry jam sandwiches, but it made me happy to know that it was appreciated.  We'll have to ration the rest of our jam until the strawberries are in season again.  The farmer who we have always bought the berries from, per info from friends, isn't going to be growing them again this year.  If anyone knows a farmer in the East TN area that either does not spray or has a only "if necessary" spray policy, I'd appreciate the info. 
I used the last jar of the canned green beans this week.  Having home canned green beans in the pantry has been such a nice treat.  I hope to put up at least twice as much as I did this year.