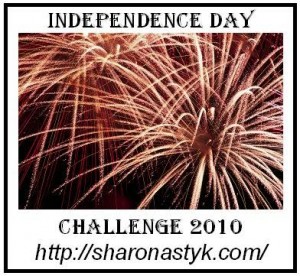 We participate in Sharon Astyk's Independence Days Challenge.   This is our weekly update. 
Plant—I blew my chance at planting the garden on Saturday.  I had other commitments that I needed to prioritize, and I was so tired after 3 days of not sleeping well that I just didn't make it to the garden.  Unfortunately it rained on Sunday, and I never made it out to plant over the weekend.  I'll hope to get the rest of the spring garden planted in the next couple of days. 
Harvest—Our daughter and I picked a sweet bouquet with the first of the spring flowers, namely Lenten Roses and daffodils.  So precious!
Preserve—I added 6 quarts of organic chili to the freezer (leftover from my batch that I made for the tamale and chili dinner at church).  I froze 2+ cups of chopped onions.  I reserved the tomato juice from the home canned tomatoes that I drained for the chili.  I froze it to add to my next batch of soup so that it didn't waste.
Waste Not/Reduce Waste— This week we estimate that our trash was reduced to about a half of a can.  I can't be certain because I failed to tell Hubby that I was keeping track of the amount until about an hour ago.  My father brought me a china cabinet that was my grandmother's from Memphis.  I'll work on moving the china over to the "new" cabinet this week.  I add this to the reduce waste category, as this is a family heirloom that will be used instead of buying a new piece of furniture.  A church member suggested that we have a small bin at the front door to the church to collect church bulletins and papers for recycling.  We do recycle paper at the church, but it isn't in an obvious spot.  This increased visibility will make the congregation much more likely to recycle. 
Want Not/Prep/Storage—We worked on getting the house back in order after a crazy last few weeks.  I added a few more boxes of pasta and canned goods to the pantry and a few soaps to the toiletry cabinet.
Building Community Food Systems—The tamale and chili supper at church went off without a hitch.  When I explained that I had used organic ingredients in my chili, it was interesting how many people asked me what I meant by that.  I worked in the food pantry this week making some boxes for distribution.  Hubby and I were downtown on Saturday morning, and I longed to walk around the corner to the farmers market for some fresh foods. How excited will I be when opening day of the market arrives!
Eat the Food— I was fighting a stomach bug late last week, and therefore I didn't really enjoy most of the meals that I prepared.  Hubby and I went out for a special supper to celebrate our anniversary and that was delicious.   I had a lobster bisque that night that was some of the smoothest I've ever enjoyed—just don't tell my father, as he brags about making the best seafood bisque!