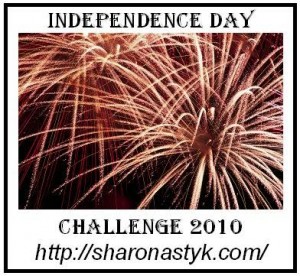 We participate in Sharon Astyk's Independence Days Challenge.   This is our weekly update. 
Ahhh, Spring!  How wonderful it was to be in the garden this week!  Feeling the dirt in my hands, smelling the moist fresh grass, seeing the seeds sprouting is so restorative and therapeutic for me. 
Plant—(Forgive me for not referring to my notes on seed types and only giving general names.)  While I "should" have planted some of these seeds earlier than this, I subscribe to the better late than never approach.  If I don't plant them at all, they won't grow.  What does it hurt to plant them a little later than I normally would have?  Worst case scenario, I won't have as long of a harvest season before some of the plants bolt. Daughter and I planted the following—5 packs/4 varieties of beets, 3 types of lettuces (butterhead, summer iceberg, and romaine), the first of the green onion seeds (Fukagawa), radishes, 2 packs of spinach, broccoli raab, pokchoi, and Chinese cabbage.   This will be a first for broccoli raab, pokchoi and Chinese cabbage.  The species types that I bought of each said they were varieties that prefer direct sow.  We'll see how it goes. 
Harvest—In addition to the flowers that our daughter picks for us, I picked the rest of the turnips and greens (maybe a little more than a bushel's worth).  I spent about 2+ hours cleaning those dang things, but boy were they worth it!  I picked the rest of the kale and some of the spring onions.
Preserve—I packed 2 gallons of the cleaned greens in the fridge to  use later in the week.  Not exactly long term storage, but after all of the work that I put into the greens I want "credit".  I made a huge pot of potato and kale soup.  We added about 2-3 quarts to the freezer. 
Waste Not/Reduce Waste—I brought some steel cans and glass jars home from church to recycle that would have been thrown away otherwise.   We participated in Earth Hour.  Hubby made note that keeping the lights off at night, or during the day for that matter, isn't really a stretch for us though. 
Want Not/Prep/Storage—Hubby worked on cleaning up the area left after replacing the sewer line.  Boy what a headache that has been! 
Building Community Food Systems—I planted a few extra seeds in the garden in hopes of sharing our extras with others.  One of the committees I'm on at church hosted a pancake breakfast, which was a nice chance to visit with others.  Hubby picked up milk from a local farmer for our milk group.  I bought some eggs from a friend who has chickens.  I look forward to a few weeks from now when the chickens will be laying more often, and we can have a few more eggs.
Eat the Food— I made the potato and kale soup with Gulf shrimp this time, and it was the best soup I'd ever made.  As we ate, I kept thinking about how it was starting to feel like the growing season again.  We had spent most of the day in the garden, and then we went in and I started cooking.  We ate fresh food from our own little farm.  My body ached from moving it and using it in ways that I have not all winter.  I've been much too inactive for too long, and I am thrilled to have warmer weather enticing me outdoors.  Food tastes much better when you are the one who planted it, tended it, picked it, and cooked it.  How much more we respect the food!  How much more we value it and enjoy it!