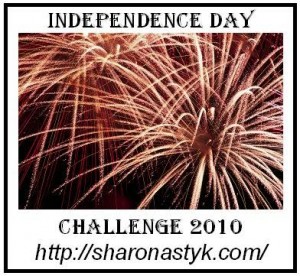 We participate in Sharon Astyk's Independence Days Challenge. This is our weekly update.
We had a record high temperature in our area this week. Then, after a rain, the weather cooled to what folks call in this area a "Dogwood Winter". People shifted from short sleeves and bare legs to sweaters in a matter of a couple of days.
Every year we get a taste of warm weather, and you'll see garden centers hopping and people returning to their gardens and lawns. It is infectious. To say that I'm tempted to plant my summer vegetables and other annuals is putting it lightly, but every year I remind myself of the last frost date. I try to stick with planting after April 15th for my summer crops (tomatoes, beans, cucumbers and other members of the squash family). When the frost hits, like it did here a few days ago, I'm always happy that I waited.
Plant—I finally ordered my potatoes. I kept putting it off and debating about what varieties to choose. They should be arriving within the next week, and Hubby is putting together the potato boxes for me. We think we'll add another few boxes this season for more crops.
I picked up 12 large daylilies at our church Spring Fling and Plant Sale. This sweet older lady of the church divides her perennials starting in the fall and ending the week of our sale. This year she brought in over 100 and sells them for only $1 each! I also picked up some chives that another church lady had brought from her garden for $1. I added those plants to the garden over the weekend. I dug 6 pots of bearded iris to donate to the sale, but the rain caught me before I could separate more.
Since the spinach was kind of spotty in its sprouting where I had planted it a few weeks ago, I added another packet of spinach seeds to the veggie garden in hopes of having more of a crop this year.
Harvest—Asparagus, lovely delicious asparagus. There is really nothing like it fresh from the garden and eaten within an hour of its harvest. I also picked some pea sprouts, spring onions, and oregano. Daughter picked lots and lots of daffodils for Momma. I have plans to plant another 100 or so bulbs this fall to better meet her need for flower picking. ;)
Preserve—I froze some of the spring onions I chopped. Leftover pinto beans were frozen for a future meal.
Waste Not/Reduce Waste—I used the ham bone from Easter dinner in the pinto beans that I cooked for the children's program on Wednesday night at church. The rain barrel was hooked back up—we disconnect it in the winter months. I do not think that we took the trash out this week, which means that we are now down to less than a half of a bag of trash a week. I'm considering either purchasing another compost bin or adding some of the composting bacteria (can't think of the name of that right off hand) to speed up the process.
Want Not/Prep/Storage—Hubby is making progress on a playhouse for our daughter. The playhouse was put on hold last year with the long illness and passing of my grandmother. We have used wood from a tree that we had to cut down in our front yard last year. We had the wood milled for use on this project. Hubby has been planing the wood and trimming the ends. The sawdust and wood trimmings have been used on the ground under the swings and play area as a mulching material.
Building Community Food Systems—I was a speaker at a local moms group about gardening with children this week.
I bought 2 jars of jam from a lady at church so that I wouldn't run out. I timed our jam usage so that we would run out about the time to pick and preserve strawberries, but there is a potential problem with that plan this year. I spoke with the farmer we normally pick with, but he is not going to have a strawberry crop this year due to current state legislation limiting farmers usage of water from ponds for irrigation. I talked with the ladies at church to secure a few other options of pick-your-own farms, and I have plans to go to one in Maryville and another in Grainger County, TN. I can't imagine a year without homemade strawberry jam!
I talked with a lady at church about helping me to preserve some of the crops from the church garden for use in the children's program this year. She was more than happy to help with this project. The garden has already been planted with potatoes, onions, and a few other things at church. They expanded the garden to accommodate a greater variety of crops, which is quite exciting.
I split a case of organic butter with a friend. While not local butter, the purchase does support the local food co-op.
Quite a few church meals this week: I helped with the older adult meeting at church this Tuesday. We enjoyed a yummy potluck luncheon after the speaker. I helped to make the men's monthly breakfast, helped with the church bake sale (made whole wheat banana bread, whole wheat pumpkin bread, and some chocolate chunk cookies), and made the supper for the children on Wednesday night. I worked in the food pantry and made up some boxes for easy distribution.
Eat the Food—The most exciting of this week's meals was the garden pasta that I made. It wasn't anything at all fancy. I boiled whole wheat pasta. I reserved some of the starchy cooking water. I sautéed pea sprouts, spring onions, asparagus, oregano, garlic from last year's CSA, zucchini I found in the back of the freezer from last year's home garden, a chopped up organic carrot, and a few leftover sprigs of parsley in olive oil. I tossed the pasta into the veg and added a little of the cooking water, a squeeze of lemon, and salt and pepper. I brought the leftovers to work, and I was thrilled to share the first of this year's garden with friends.