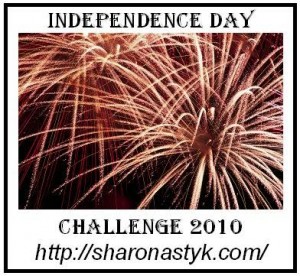 We participate in Sharon Astyk's Independence Days Challenge.   This is our weekly update. 
The day that I've been waiting for most of my gardening life has finally arrived.  I picked the first of our asparagus from our garden!  I've been gardening since I was a child.  We never had an asparagus bed at my home, and I've always wanted to have one.  For years I put it off thinking, we won't be able to enjoy the fruits of our labor because as soon as I plant them, we'll have to move.  Finally, I stopped second guessing myself and planted the bed.  I am so happy that we did.  While I know that I can't devour every single sprout since this is only our second year to have the bed, knowing that I can pick a few for our family to enjoy is worth every bit of effort we put into the prep and planting of that bed.  It finally feels like the harvest season has begun!
Plant—Nothing planted this week.  We found out a relative had to go in for heart surgery late this week and the weekly schedule was shifted a bit.  There will be plenty of work to do this week.  Whenever I read my newest edition of Mother Earth News (I began reading this month's yesterday) I find my gardening spirit renewed and even more gusto for self sustainability. 
Harvest—We picked a beautiful arrangement of flowers for our Easter table—Lenten Roses, 3 varieties of daffodils, 2 types of tulips, purple plum blooms, grape muscari, and greenery from the allium.  I picked green onions for our cabbage rolls.  I picked the first of the asparagus, noted above.
Preserve—Only after I had bought a dang bell pepper at the grocery store did I find one I had reserved in our freezer for the occasion.  I've started making more of a detailed list on how much I need to preserve and reserve for what purposes.  The last of the parsley is long gone, and it would have been super simple to have chopped it and had it available for the Easter dishes.  Hindsight is 20/20.  I can't think of anything that I preserved this week.
Waste Not/Reduce Waste—We continue to work on our trash waste, and we are staying at about a half of a bag a week.  I have also made a better system for bringing compost out to the bin, which is away from the house.  While I'm sure a lot of folks in our area have already turned on the AC, we've been enjoying the cool breezes through the opened windows.  It is so lovely to awaken to birds chirping and the sound of the wind in the trees.  We hope to hold out at least until May before we turn it on.  Hubby plans on hooking up the rain barrel this week.  We disconnect and drain it at the end of the year, and we usually hook it back up when I start to need it for watering the gardens. 
Want Not/Prep/Storage—My father brought me a few cases of assorted sizes of mason jars.  Since I have a lot of food preservation planned for this growing season, I was very happy to receive them.  Now, where to store them??  I'm sure I'll find a place.  The Spring Fling and Rummage Sale will be held this Friday and Saturday at our church.  I'm looking forward to picking up a few clothes for our daughter and some things that I need around the house.  This sweet older lady at our church also divides hundreds of perennials to sell.  I have the back of my car cleared out and ready to load!  I suspect that I'll spend most of next week planting. 
Building Community Food Systems—I really haven't done much in this area.  My father is moving to Knoxville, and I've been thinking about making him an easy to maintain vegetable bed in what will soon be his front yard.  He already has plans on planting plum and pear trees in the fall so that he can enjoy future crops.  We visited my uncle's farm on Easter.  He has what I would call a homestead, and our daughter loved feeding the fish and seeing the new baby calves.  I realize how spoiled I am to have a family that gardens/farms and preserves foods.  Pretty much all of the family cans—male and female.  It was nice to taste the pickled okra my uncle had put up last year. They were perfectly crisp and just spicy enough.  I saw how he has experimented with floating row covers on his garden beds, and how he is using the grey water from his house to irrigate.   We enjoyed a community meal at his place, as he had some of his neighbors from surrounding farms visiting.  Some of the neighbors were from Mexico and were speaking Spanish.  Our 4 year old daughter told them, "You guys speak Spanish really well!"  They all burst into laughter, and I still get a giggle when I think of her smile when she told them. 
Eat the Food— We've had some pretty fantastic meals lately.  Some of my uncle's neighbors made from scratch triple chocolate cakes with homemade apricot preserves in between the 4 layers!  Too good to be true!  The cabbage rolls that we made this year were probably the best we've ever made.  We added more vegetables than we usually do, which we think added to the flavor.  The only regret was that we didn't make pirogue, but since it is so labor intensive and we had so much other food, I didn't really miss them…too much.  With the excitement of my friend's hens laying more regularly, the intense flavor of another farmer friend's  grass-fed milk, and the delight of our very first asparagus, the meals we will enjoy from this point on are definitely looking up.