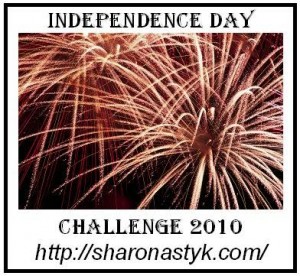 We participate in Sharon Astyk's Independence Days Challenge.   This is our weekly update. 
We spent most of this weekend outside, working, tending, planting, watering, and playing.  My body aches, my shoulders are red, and my spirits couldn't be higher.   Notice there is an "and" there instead of a "but".  I love feeling my muscles and knowing they have had purposeful work.  While I should have worn sunscreen and been a bit more sensible about that, I love that the sun was shining on me and that I basked in the rays.  Ahh, the sensations of spring!
The garden is looking good this year.  I planted more early spring vegetables than I normally do.  The broccoli raab and radishes are lush and green.  The onions are already about 10 inches tall.  The spinach finally perked up and is doing its thing.  The lettuces will be ready to thin and enjoy in another week or so.  And the peas, I can't wait for the first flowers of peas!  The garlic, leeks, green onions, beets, and pakchoi are all doing well. The only thing that seems to be struggling is the Chinese cabbage.  Since it is my first year to grow it, though, I'm not entirely sure what to expect. 
Plant—
Pots/Containers: I repotted two apple trees.  I haven't found a place for them in our yard even though we've had them 3 years now.  I have decided that they might work perfectly flanking the walkway to my father's new house.  I put together two large pots for our front porch. I'm not entirely pleased with them and may tweak them a bit this week.
Veggies: I decided to plant a few extra kale seeds, though it is a bit late in our area to do so.  I planted 6 bell peppers, 6 jalapenos, heirloom red okra seeds, yellow crookneck squash, zucchini, 2 Early Girl, 1 cherry tomato.  I found some old lima bean seeds (some being my favorite Christmas lima beans).  I planted them a little early for our area, deciding that if they didn't come up I have time to pick up some new seeds.  Our area is calling for a little cooler weather so I didn't plant any other beans or anything else in the squash family. 
Flowers: 6 candytuft plants.  I fought and fought with nutsedge for years in one of our garden plots.  This year I decided to till the whole thing up (yes, I know that will ultimately make the nutsedge worse) and plant the heck out of it with flowers.  I planted about a pound of mixed wildflower seeds from Wildseed Farms.  (If you are ever in Fredericksburg, TX I highly recommend that you stop in to see the farm).  I also added some seeds of sunflowers (Moulin Rouge and Valentine), hyacinth bean on the trellis, and nasturtiums. 
Harvest—I have just about had to tie my hands to keep from picking more asparagus.  I picked two as a little gift for our daughter's teacher, but other than that I'm going to try and let the rest of them frond out.  I picked a few herbs and onions.  I made a few flower arrangements. 
Preserve—I can't think of anything that I preserved this week. 
Waste Not/Reduce Waste—I used some potatoes that were sprouting before they went bad. We continue to use our energy saving strategies, recycling, reusing, composting, and all of the regular stuff that would go into this category.  I've been making a point to use a large bowl to collect any water when cooking or prepping food to use to water the plants. 
Want Not/Prep/Storage—We did a lot of work outside—weeding, mulching, and prepping beds.  Hubby continues to make progress with the play area for our daughter.  I added some dried apricots to storage.
Building Community Food Systems—I was a speaker at a local church group, teaching about budgeting and couponing.  It wasn't the best talk I've ever done, but I hope they still were able to glean something from the information presented.  Hubby, daughter, and I helped with the Angel Food Distribution.  I've been trying to promote the area farmers markets and farmers via my blog.  I'm working with friends to place a bulk coconut oil order.  I made a batch of homemade hummus for a friend of mine per her request.  We did a little bartering, though I was more than happy to make it just for the flattery of her saying she liked my recipe best. 
Eat the Food— I made the mistake of not planning the meals for this week, and as a result I've not been doing so hot in the cooking area.