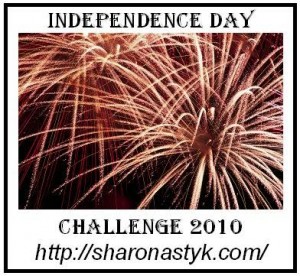 We participate in Sharon Astyk's Independence Days Challenge.   This is our weekly update. 
Our area was finally blessed with some rain.  Unfortunately after the first rain, my husband realized that our daughter had left the spigot to the rain barrel open.  (She loves to water and adores making mud pies).  Luckily the next rain came before we needed to water anything, and the rain barrel is full again.  Everything looks lush and green, and the seedlings are stretching out to the sky.
Plant—2 Amish Paste and 1 Brandywine tomato and 1 Italian Parsley, organically grown/seeded and bought at the farmers market.  Nothing else made its way into the ground this week.   This next week, I'll shoot for planting the watermelons, beans, and potatoes if they come.
Harvest—Shitake mushroom from my mushroom log, spring onions, broccoli raab that needed thinning
Preserve—A few green onions were put in the freezer.  Whenever I'm chopping and end up with too many onions, I throw them into a container in the freezer.  When I'm making omelets or an egg scramble these help to make the prep work a cinch.
Waste Not/Reduce Waste— Since my dad is living with us until he finishes some work on his house, he has been helping with the composting and recycling.  I'm thrilled because as far as I know, he has never really done either of these before. 
Want Not/Prep/Storage—We've helped my dad with his new place—moving things in, cleaning, washing windows, and starting work on some of the home improvement projects.  We're making an effort to use what we have, and when we need to make purchases we'll try and shop at secondhand shops when we can.  Since my dad has worked in construction for almost his entire life, we won't have to purchase much new.  Hubby has been working on the playhouse for our daughter.  Progress has slowed on that with the rain and helping my dad. 
I picked up some Vitamin D at Walgreens this week to add to storage.  I found a great deal on canned veggies and picked up 6, the limit that the store would let me buy.  Kroger had their organic chickens marked down, and I picked up 2 for the freezer. 
Building Community Food Systems—I went to the farmers market for the first time this season and purchased some lettuces, bok choi, plants, and of course cookies from a local bakery.  Made up a list of things that I need to purchase at the farmers markets or at pick your own farms in the next few weeks.
Watched Food Inc again.  I decided a while back that I need to either read or watch something in that genre to reinforce for me the importance of purchasing local products.  I liken it to going on a diet.  At first, I'm gung ho and ready to change my ways.  Then with time, I become somewhat complacent and revert back to old behaviors, foods, and purchases.  Sometimes this occurs because of being lax, sometimes because of a tighter monthly budget, sometimes because it is too easy to do otherwise, sometimes it is because I need reminders and motivation, and sometimes it is because it is too difficult to find local products (in the dead of winter, for instance).  Regardless of the excuses reasons, a little tune up of information reinforces my dedication. 
Eat the Food— I went to the garden early one weekday morning last week and thinned the broccoli raab.  Knowing that the leaves and stems were edible, I cleaned and chopped them and added them to an omelet scramble with some green onions, ham and zucchini (home preserved).  I served it with locally made salsa and some cheese toast using the buttermilk cheese from Sweetwater Valley Farm, our favorite local cheese. 
The entire family enjoyed the steak dinner that I prepared over the weekend.  The venison steak was from a deer that my brother-in-law took this winter.  I brine the steak for about 24 hours and then marinade it for an hour or so.  We grilled it with the shitake mushroom and served it with a salad from locally grown lettuce. 
I had the pleasure of enjoying a dinner party with some friends from work late last week.  My friend, the hostess, made some yummy gumbo with Gulf shrimp.  Since it was a potluck, everyone brought something.   I brought the ingredients for Bananas Foster, and though the recipe that I used wasn't the one I have used in the past, they turned out great!  Nothing says party like a flambé!