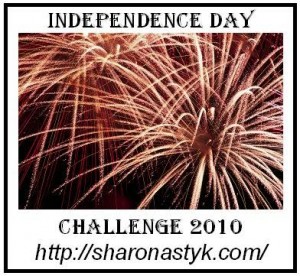 We participate in Sharon Astyk's Independence Days Challenge.   This is our weekly update. 
The garden is lush.  The Market Square Farmers Market opened this weekend.  Our family picked strawberries and gorged.  Fresh jam is on the counter.  --I couldn't be happier!
Plant—Watermelon seeds. 
Harvest—The first of the radishes, beautiful reddish pink, sweet and pungent at the same time.  Spring onions, spinach, lettuce, strawberries.  Broccoli raab, bok choy, and  beet greens thinned and added to salads.  I was bursting with joy when I saw that our plum trees FINALLY have plums on them.  We've been waiting for about 4 years for them to fruit, almost giving up on the idea.  We'll look forward to those in the early summer.
Preserve—A few green onions were put in the freezer.  Two batches of strawberry jam.
Waste Not/Reduce Waste— I've been working on cleaning out last year's veggies and fruits from the freezer to make way for this season's crops.  We ate the last of the pesto, and almost all of the berries.  I made a big batch of whole wheat berry muffins to use up the berries.  I brought home the coffee grounds and banana peels from the men's breakfast at church on Saturday for composting. 
Want Not/Prep/Storage—Added a few supplies and foods to storage this week.  Ordered a few cases of items at the local food co-op.  Bought some extra sausage and ground beef from our favorite local beef and pork farmer.  Hubby put together the potato boxes, and the potatoes finally arrived.  Of course, with the prospect of a very heavy rain we didn't plant yet. (Much of Middle and Western TN is flooded).
Building Community Food Systems— Helped with the breakfast at the church on Saturday.  Attended the opening day of the farmers market in downtown Knoxville.  Delighted in buying spinach, eggs, pork and beef.  Picked strawberries with my husband and daughter on Saturday.  This was our first time to pick at this farm, and we'll definitely be back. They specialize in broccoli and strawberries.  I hope to preserve some broccoli this  year, too.  I made plans to work in the church garden this week if it is dry enough.
Eat the Food— There were many "happy dances" at the table this week.  Local, fresh food, much of which was grown in our yard makes us very pleased indeed!  When eating the first salad of the season, we all kept saying, "We grew this salad in our garden!"