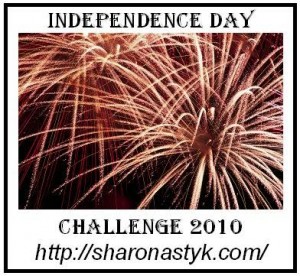 We participate in Sharon Astyk's Independence Days Challenge. This is our weekly update.
The weather went from hot earlier in the week to almost needing a sweater over the weekend. The cooler temperatures made lingering in the garden and outdoors even more enjoyable than usual.
Plant—We FINALLY planted our potatoes! FINALLY! Planted Mountain Rose, Purple Majesty, Nicola, Yukon Gold, Bintje, and Banana Fingerlings. I planted the first wave of filet pole beans, cucumbers, and Jacob's Cattle shelling beans.
Harvest—The first of the peas have become pods that we have quickly devoured, and I seriously doubt we'll have more than a handful make it into the house. We love to have the sweet and tender pods and peas as a snack when outside. The pea plot becomes our candy vending machine. ;) Also harvested: radishes, the kale that had resprouted from the stems, onions from last year and spring onions from this year, lettuces, spinach, broccoli raab, bok choy, rosemary, oregano, and beet greens. We had plans to pick strawberries this weekend, but we decided to stay at home for some family time. We'll go to the patch next week when it is a little less crowded.
Preserve—A few chopped green onions were put in the freezer.
Waste Not/Reduce Waste— We made it through the heat earlier last week, and I'm pleased to report that we have not turned the AC on yet. I was quite tempted, but I knew that the cooler weather was moving in this weekend. Waking with a chill on Mother's Day, I was glad we held off. We continue the usual waste reduction stuff—recycling, reducing usage, energy saving strategies, making do, composting, and eating leftovers. I now have a few crates of assorted sizes of mason jars from my grandmother's house that my dad brought me from Memphis. After a good cleaning, they'll be ready to fill.
Want Not/Prep/Storage—Tidied the back porch, gave the lawn chairs a good scrubbing, swept the path, moved some old potting soil from last year's pots to a pile where I'll eventually add some butternut squash seeds. Hubby helped with the potato boxes and worked outside on various jobs. I added 10 lbs of organic raisins, 3 lbs of organic oatmeal, and about a year's supply of toilet paper to storage. I also bought a case of Evol burritos at our co-op that were a great price with coupons and a case discount.
Building Community Food Systems— Visited the Market Square Farmers Market this weekend, though we only bought cilantro this week. Most of the other foods that were available are plentiful in our garden right now and not as easily preserved. Picked up milk for our small milk co-op. Hubby checked on our friend's chickens over the weekend when they were out of town. Picked up the eggs from that and bartered with her earlier in the week for eggs in exchange for baby-sitting. I meant to make it over to the church veggie garden to plant some things, but I never did. I'll try and do so on Tuesday this week instead.
Eat the Food— Made some pasta using the veggies from the garden with a little olive oil, butter, lemon juice, and parmesan cheese. Served that with salad dressed with balsamic vinegar, olive oil, and salt and pepper. Such a simple meal, but it went over very well with the family. Instead of making salmon patties late in the week, I made fajitas instead. Everyone enjoyed them, and I only wished that I had bell peppers in the freezer from last year to use with the onions. I shouldn't complain because we used our last one only a few weeks ago.
We used the last of the dill pickles that I made last year. I'm starting to make a tally of how much we need to preserve of what foods to make it through the entire year.
Jam—1 pint per month and an extra couple of pints to use for baking cookies and such. Extra pints needed for gifts.
Pickles—1 pint of dill for every 2 months. Hopefully we'll have enough cucumbers to also make sweet pickle relish for hot dogs and salads this year.
Beets—1 pint for every 2-3 months or at least 1 pint for every major holiday to serve on a relish tray.
Pears—1 quart canned fruit every month, at least.
Peaches—1 quart canned fruit every month, at least.
Frozen fruit—3-5 gallon bags
Sherbet—as much as we can fit into the freezer
Frozen corn—we only put up 3 gallon bags last year. The previous year we put up more than 3 times that amount, and it was completely worth the effort. We'll shoot for putting up as much corn as we can get our hands on.
Green Beans—we put up about 6-8 quarts last year. It would have been nice to have had at least 2 times that amount, if not more.
Dried fruit—last year we dehydrated about 3 quarts worth of fruit. I've learned that as long as I don't burn the fruit, we'll use as much as I can dehydrate.
Zucchini—I froze about 4 gallons of zucchini, shredded and chopped. It was nice to pull out for frittatas and omelets. We dehydrated about 2 quart jars worth, and I think that is about all we can use of dehydrated.
Tomatoes—I wish I had recorded how many cans I had put up last year, but I didn't. I estimate we only need about 1 quart per month of the year, maybe a few extras. We still have tomatoes from last year.
Bell Peppers—I froze 3 gallon bags full of whole peppers. I wish I had at least another 2 gallon bags worth.
Pickled peppers—I canned about 4 pints worth. It would have been nice to have a few more so that we didn't have to reserve them and use them sparingly.
Onion relish—I only made a few half pints of these. They were yummy, and if I have more red onions this year, I'll make as many as I can.
Butternut squash—we had 26 squash in our dry storage last year. We used the last one in February/early March this year. This was more than enough to eat and give away to friends and neighbors.
Potatoes—we can never have to many of these.
Okra—we only had enough to freeze a few pints worth as a ready made okra and tomato dish. The more we can freeze, the better.
We'll try our hands at preserving broccoli this year, probably most of it will be frozen and a few will be dehydrated. We'll see how it goes. I'm also going to try and can homemade mustard, watermelon rind pickles (if the watermelon come in), and chow chow this year.