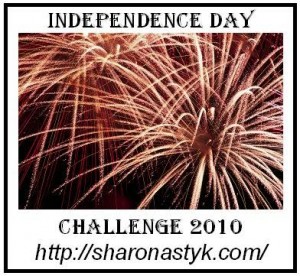 We participate in Sharon Astyk's Independence Days Challenge. This is our weekly update.
My husband spent last week in Middle Tennessee performing emergency response bridge inspection work.  In case you haven't read or heard in the news, most of the counties in Tennessee were flooded with Nashville perhaps being one of the hardest hit cities.  While we very much missed him and it was hard having him away for so long, I'm very proud of the work he did to help the people of that area. 
With on again off again rains and my attending the Alzheimer's Symposium on Thursday and Friday, I didn't make it to the garden as much as I would have liked.  The garden was faithful to us, though, and continued producing without missing my attention.  We harvested as much as we could eat with still enough to share with a friend.
My father is staying with us while he is working on his home, and I see how he watches me when I'm in the garden.  Almost every time that I come back to the house from working in the gardens, he talks about my grandfather and how much he would have loved to see me gardening and canning.  My father has a belief that gardening skips a generation. While he has grown tomatoes and hot peppers for years, he only remembers having one big garden that he planted.  Perhaps seeing our garden is inspiring him, though, because he talks about the many plants and trees that he wants to add to his home landscape. 
Plant—Nothing planted this week.  I can't believe it, but I didn't manage to get anything into the ground.  Yikes!
Harvest—From our home garden/farm: peas (sugar snap and snow peas), bok choy, beet greens and 1 beet, iceberg (yes, I am probably the only home gardener ever to plant iceberg, but I picked a summer iceberg variety and have enjoyed it.  It has a lot more flavor than traditional iceberg and is perfect with tacos and sandwiches), romaine, butterhead, spinach, garlic scapes, spring onions, radishes, broccoli raab, herbs.  We also picked 28 lbs of strawberries at Rutherford's strawberry and broccoli farm in Maryville, TN.  We saw one of our daughter's teachers with her mother and just as we were leaving saw a lady from church with her son.  Miss Shirley, the church friend, is the lady who said she would help me with preserving some of the foods from the church garden this year.  I told them that it felt very Andy Griffith show to be picking strawberries and run into friends.
Preserve—I made 3 batches of strawberry jam, 2 batches of strawberry buttermilk sherbet (recipe on my site), and froze about 3+ gallons worth.  Froze a few chopped spring onions.
Waste Not/Reduce Waste— Used a few odds and ends from the freezer to make way for this season's fruits and veggies.  Used some coffee grounds around the tomatoes.  Resisted the urge to buy a wardrobe for our daughter at Gymboree this weekend (there was a big sale and I had a 30% off coupon).  I decided that I could spend $50+ dollars for a few pieces of clothes for her or the same amount for an abundance of clothes at a consignment sale or shop.  Almost as if to reinforce my decision, friends at church said that they have a few bags of clothes to give her as hand-me-downs.  She was thrilled, as was I. 
Want Not/Prep/Storage—I estimate that we now have a year's supply of strawberry jam in the cupboard after having canned this weekend.  We should have enough strawberries in the freezer for a year as well.  Since it looks like we might have more peas than I originally thought we would, I might try to blanch and freeze some of the sugar snaps. 
Building Community Food Systems— Church garden was a little too wet to work this week, but I have seeds reserved to plant if I'm ever able to do so.  Visited a pick-your-own farm, mentioned above, and I've been sending friends, relatives, and readers to pick there.  When we were picking a few weeks ago, I noticed a farm just down from the strawberry patch that was selling cage free, hormone free eggs.  Since the chickens were in sight and obviously happily eating bugs and grass, we decided to give it a try.  We bought three dozen large eggs for only $6!  While the yolks aren't as dark as some that I've had, the shells were strong, yolks were large, and they were significantly deeper in color than the junk from the grocery store.  The older gentleman who answered the door seemed pleased we stopped by.  Our daughter made friends with his dog and delighted in seeing his guinea hens running the  yard.  I was about as happy as I could be when I looked at our trunk—dirty boots, buckets and baskets heaping with fresh strawberries, and local eggs. 
A friend who knew that I was making jam came over for a tutorial on Saturday afternoon.  She bartered a quart or so of strawberries for the lesson.  The gesture was very much appreciated, though not necessary.  I must say that I love having a barter to report in this update.  ;) Our children played while we canned.  Later I showed her and her son the garden.  I told him that I was taking him down to our "candy machine", and all the way down to the garden he kept looking around as if knowing that I wasn't taking him to an actual candy machine.  With a sly grin I told him that the pea patch was our candy machine, that he could pick all he wanted, and could eat his fill.  He seemed to like this form of candy, and I sent him home with a bag full of goodies from the garden to share with the rest of their family. 
Eat the Food— I've thoroughly enjoyed the greens from the garden this year.  In particular the last of the kale, the baby bok choy, and the broccoli raab have been tasty.  It has been nice to pick bowls of salad that almost overflow with abundance.  However, I don't think anything could top the strawberry buttermilk sherbet!  Delightful!