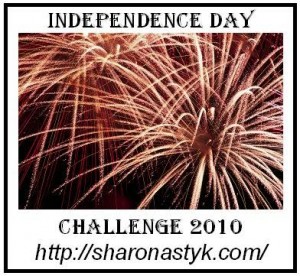 We participate in Sharon Astyk's Independence Days Challenge. This is our weekly update.
Late last week the weather was almost cold at night, making it more pleasant for gardening, sitting outside on the back porch for long talks, and lots of play and adventures for our daughter. 
I've written and rewritten a synopsis of this week almost 20 times, without exaggeration.  I think I'll sum it up to say that this last week has been emotionally draining for our family.  With all of the upheaval, I took some solace in the garden.  The rhythmic action of hoeing rows, the rote picking of peas, the methodical pulling of weeds enveloped me in a sense of calm and rest.  In the garden my mind is finally peaceful enough to meditate and pray, and this week my garden vigils were restorative. 
Plant—heirloom red okra, emerite filet pole beans, butternut squash seeds saved from last year, cucumbers, watermelon.  In the church garden I planted 2 rows—1 of Pawnee Shelling Beans and 1 with zucchini and crookneck squash.
Harvest—Salad greens—beet greens, spinach, butterhead, iceberg, romaine; bok choi, the first of the Chinese cabbage, radishes, snow peas, sugar snap peas, spring onions, bulb onions (from last year), flower arrangements, herbs.
Preserve—1 quart bag of chopped onion tops.
Waste Not/Reduce Waste—  I didn't do so hot in this category this week. I wasn't as good about composting everything last week as I could have been.  I bought 2 pair of cheap shoes at Target instead of getting something of high quality that would last and could easily be repaired by the cobbler.  I stained yet another shirt beyond redemption, but at least with that one, I can make it into a bag.  On the other side of the coin, my dad's home repairs are going well.  Since we are reusing some of the things he had from old construction jobs, we have sold a few of the things in the home that needed removed.  He is being careful in how he does the demo so that everything that can be reused will go to another home. 
With the weather being so warm, we haven't drank as much milk as usual.  Rather than freezing it, I made a few recipes that used a good deal of milk to avoid waste—milkshakes and soaked oatmeal. 
Want Not/Prep/Storage—I added a few toiletries and teas to storage from a Frontier co-op order.  Since I haven't had a need to go to the grocery, I only made a quick run to pick up coffee this week. 
Building Community Food Systems— Our daughter's school had a brunch as an end of the year celebration.  I brought a large salad from the garden, homemade vinaigrette, and boiled farm fresh eggs.  I was so pleased to see how many people seemed to enjoy our contribution.  I worked in the church garden this weekend, planting beans and squashes there.  I shared some of our extra lettuces with our neighbors.  I oriented the new church secretary to the food pantry distribution system.  I picked up a few things for the food pantry at the store.  Passed on information about Angel Food Ministry to a handful of people.  I wrote to my city council representative to show my favor of the backyard hens initiative going before that council in June.   
I've been working on the menu for the children at VBS. They run an entire week, starting on June 7th, and because we never know how many children we'll have until we actually have them arrive, it makes planning tricky.   I'll hope that by that time we might have a few easy finger foods (cucumbers, squash) ready to pick in the garden to use for the kids.  One can hope!
Eat the Food—I made a stir fry this week that was highly enjoyable because of how much of the food was grown by our hands.  We added some locally grown beef and broccoli we bought from a farmer friend and a few store bought organic carrots we needed to use.  Not that I needed justification, but having so much of the meal that was "free" better allowed us to buy good quality beef and organically grown broccoli to add to the dinner.