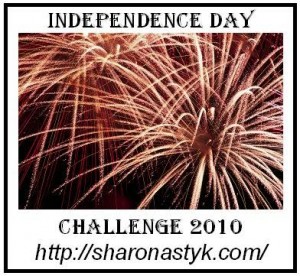 We participate in Sharon Astyk's Independence Days Challenge. This is our weekly update.
Much of last week was spent traveling to a family funeral in TX and back.   When in TX we passed by the house that my grandfather built for them when my father was about 8 years old.  I am in awe of that home each time I see it, as I remember hearing my father talk about building it.  The two sons were in charge of scraping the mortar off of the used bricks that my grandfather had from a construction job so that they could be used in their new home.  Nothing was wasted.  Everything was reused and done so in a manner so that the house is still in excellent condition to this day. 
Plant—sweet basil
Harvest—Salad greens—beet greens, spinach, butterhead, iceberg, romaine; radishes, peas, the first of the beets, spring onions.
Preserve—A few green onions and some pinto beans were added to the freezer.
Waste Not/Reduce Waste—  Without the option of train travel or carpool from here to TX, the most environmentally friendly option was traveling in our most fuel efficient car, keeping the trip short, and being mindful of our speed and AC use.   We brought cans and bottles home to recycle instead of throwing them away while on the trip.  We packed snacks, drinks, and meals from home and bought from a grocery store instead of eating at a restaurant for each meal.  I kept watching for roadside stands and farmers markets to pick up some foods that aren't yet in season here, but I didn't find any.  I had so wanted some ripe tomatoes! 
We received some clothes and shoes from a friend at church for our daughter.  She was absolutely thrilled, and though some of the flip flops are a little too big, she's enjoying wearing them already. 
I broke down and turned on the AC on Sunday, May 30th.  We almost made it to June and held out a week longer than last year.  If it had not been for the inability to move our sleeping quarters to downstairs this year (my dad is staying with us until the renovations on his home are complete), we might have lasted longer.  Each year we last a few days more.  I must add here that when we turn the AC on we turn it to 80 or higher and turn it off when not in use. 
We have a kiddie pool that was given to us by my cousin after her girls played with it for years.  It is probably 8 years old and now has a large crack in it, preventing its use as a pool this year.  We've played around with ideas on what to do with it at this point.  I told my daughter that we cannot purchase another one until we figure out a way to either recycle it or reuse it, and this has become an excellent source of dialog.  We think that our local recycling center will take it.  I think we've decided to it as a sand pile prior to recycling it, adding a few more years of use.    In looking at options for a new pool, our daughter wanted one of those inflatable pools.  We talked about how those pools tear easily, are difficult to patch, and how they won't last as long.  We talked about the reasons not to buy something that won't last.  We have talked about opting for a post consumer pool and one that is made in the USA if we can find one. 
Want Not/Prep/Storage— I added low dose aspirin, arnica gel/rub, and potatoes to storage this week.  Hubby added a roof to the play area.  Hubby and father dry walled the kitchen and bathroom in my father's home.  I helped with tiling at the house. 
Building Community Food Systems— We donated some spring onions and bok choy to the church vegetable cart.  I worked in the food pantry at church some.  I'm in charge of the food purchases for the children's program, and I've started making those purchases this week.  I picked up local milk for the Wesley House, a local community center which our church helps to sponsor.  I am thrilled that the kids will enjoy good local milk, many for the first time.  Our family visited the farmers market over the weekend.  As we enjoyed locally made ice cream from local milk, visiting with the farmers and their family members, my husband said, "This is why we go to the farmers market," and smiled brightly.  He's right.  We like knowing where our food comes from, how it is made, how it is grown.  We like the connection we have to our favorite farmers and how they have become an extension of our family. 
Eat the Food—Perhaps I'll argue against this point when I devour the first of the ripened tomatoes, but I do not think that there is a better vegetable than the beet!  We ate the first of our beautiful, beautiful beets this week.  It was our first year to grow golden beets in addition to the red and candy striped varieties, and we were not disappointed.  I served the roasted beets in a simple garden salad, and they were a huge hit.