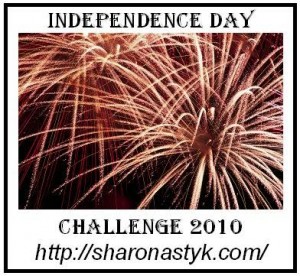 We participate in Sharon Astyk's Independence Days Challenge. This is our weekly update.
It has been hot and dry in the East TN area.  We were so glad to get some rain from a late afternoon thunderstorm near the end of the week, but it wasn't nearly enough.  The plants and rain barrel were and are still thirsty.
The garden started off with a bang this year, and it was full and rich.  After the colder season crops were done, the garden hit a plateau.  I'm not sure if it was poor planning on my part, the varieties of the plants that I chose this year, the weather, or a combination of all of the above, but the garden isn't fairing as well as it was this time last year.  We still have food so I'm not complaining, but I am making notes for next year on things to do differently--
more zucchini, less yellow crookneck squash
a different variety of cucumbers
twice as many jalapenos and positioned at a different spot among the garden beds
even more beets than last year
more compost added to the beds and topped with straw in the fall
revisit whether or not Amish paste tomatoes is the right choice for us once the season is over
more room for more food
more containers of pole beans here and there
add eggplant to the list of foods to add to the garden next year
Plant— Nothing planted this week.
Harvest— blackberries, plums, a few blueberries, squash, zucchini, green beans, jalapenos, onions, green onions, 2 types of beets, the last of the Chinese Cabbage, a cucumber, cherry tomatoes, tomatoes.
Preserve—Borscht, chopped green onions, sautéed squash added to the freezer.
Waste Not/Reduce Waste— The rain barrel was dry earlier in the week.  Normally I use the water from our kitchen tasks (washing vegetables, cooking water, etc) for houseplants and plants on the porch, but I've been collecting it to water the vegetables in the garden so that we do not have to use the hose.  It is tedious, but we are working to reduce water waste. 
Want Not/Prep/Storage—We visited my cousin's home early in the week and left with our arms full.  She is so generous to share with us, and it is greatly appreciated.  We left with a large bag full of clothes in excellent condition for our daughter, a copy of the Wind in the Willows, and a bag full of cucumbers, squash, and green beans. 
A friend from church gave us a few more hand-me-down shoes and a book for our daughter.
There was a lot of work to do in the gardens after an eventful month.  I've tried to make a daily routine of doing some form of gardening or garden care in the morning and checking the garden again late the afternoon/early evening.  I find that if I garden before the rest of the daily chores, errands, and activities, then I not only get more accomplished but I do not end the day feeling upset over not being able to get to the garden. 
We added a few more pounds of dried beans to the pantry storage. 
Building Community Food Systems— I scheduled a time to go blueberry picking with my cousin and friends of ours.  I plan to go blackberry picking today unless the lack of rain has dried up the harvest. 
When visiting my sister, I went to her local farmers market.  I realized how spoiled we are here in Knoxville to have such a large market with a variety of farmers and vendors.  Most of the produce at her market came from two stands with much of it seeming to be shipped in from the surrounding area and neighboring states.  Much of the food there was similar to what you would find at a grocery. 
Hubby brought home some beets from the garden at the church that I plan to pickle this week. 
Eat the Food— The homemade borscht was delicious.  I joked with my dad that it was better than his, and he only grinned wryly in response.