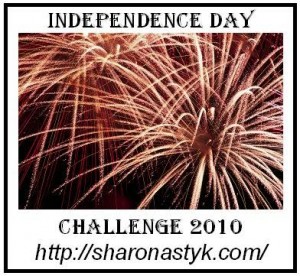 We participate in Sharon Astyk's Independence Days Challenge. This an update from the last two eventful weeks. 
Plant—tomatoes
Harvest—Salad greens—beet greens, butterhead, iceberg, romaine; radishes, peas, spring onions, crookneck squash, shitake mushrooms, zucchini, cherry tomatoes, leeks, two types of kale
Preserve— I tried to save the seeds of onions and broccoli raab without much luck.  The onion flowers that I was watching were abandoned when we had another funeral to attend.  The broccoli raab fell over with the weight of the seed heads and I had to remove about half of it from the garden.  From what I can tell the seed pods on the rest are a few weeks away from being ready to harvest the seeds, but I'm new at growing it.  We'll see how it goes.  I did manage to dry some pea seeds for next year.
Waste Not/Reduce Waste—  We received another small bag of hand-me-downs from a friend at church for our daughter.  They gave her a pair of flip flops that had only been worn once, and our daughter was thrilled!  Again I resisted the urge to buy a bunch of new clothes for her at Gymboree.  I looked in her closet and drawers at what clothes she has for this summer, the fall and winter, and next year.  I was pleased to see a lot more than I realized she had.  I moved a few of the clothes that she cannot fit into anymore into storage.
I organized the food and meal prep for VBS at our church this last week.  As long as I've been involved, they've used paper plates and plastic ware.  This year, I decided to try to use the real plates and silverware that we have to see how it goes.  Overall, it drastically reduced the amount of disposables that would have been used.  Instead of using over 100 disposable plates and the equivalent of plastic forks/spoons, we used about 10-15 disposables each night.  The kids eat in shifts, and we had enough time to clean the plates and silverware for all but one class.  We still used disposables on the last night of the event, but even then we tried to choose options that had less waste (recycled paper napkins, for instance).  It might not be perfect, but for feeding so many, we were pretty proud of the progress!  The great thing is that we now have more information so that we can expand on this in future years. 
I continue to help with the recycling at our church, and one friend now jokes that I'm the recycling dictator.  Hubby and I brought bags and boxes home to recycle for the church, and I was so glad that all of that waste didn't end up in the landfill. 
Want Not/Prep/Storage—Daughter and I did a major overhaul on her room in preparation of my sister coming into town.  Hubby added the next tiers to the potato boxes.  The potatoes are growing like crazy this year!  I worked on getting the bookshelves looking a little neater, which also entailed gleaning some of the many, many pieces of art our daughter makes. 
Building Community Food Systems— Our church was highlighted in the local paper for its money saving efforts.  In the article the reporter talked about our church garden and how we use it to help others.  Two of the older ladies in our church were photographed, and they talked about how special it made them feel to be phoned by so many friends who had read the article. 
I worked in the food pantry to make up some boxes for easy distribution.  I brought lettuce from the church garden to a local senior apartment complex.  I organized the food for VBS, mentioned above, and brought salad from our home garden to serve with a pasta dish we had one night.  I'm going to encourage the group to have VBS a few weeks later next year if possible so that we can benefit from having more fresh fruits and vegetables in season and ready for use.
We continue to attend the local farmers markets on the weekends when we are in town.  In one of my weekly blog posts that highlights deals at local grocery stores, I've made a special section that tells readers the kinds of foods that they can look for at the market that week.  So many people say that they do not know what is in season and when, and the response from readers has been that this is helpful. 
Eat the Food— The shitake mushrooms on the grill were delicious, and each time we eat them, I'm so proud that I made the mushroom log with my own two hands.  I also made some potato and kale soup, which my dad says is now his favorite soup ever.  The stir fry that I made on Sunday was probably my favorite one I've ever made.  With all of the colors and textures of veggies from the garden mixed with the brown rice and a bit of chicken, it was wonderful.