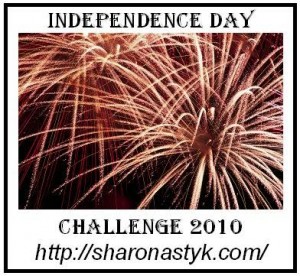 We participate in Sharon Astyk's Independence Days Challenge. This is our weekly update.
When I started writing this post, I began complaining about limited time in the garden this week.  Just about every chance I had set aside time to garden, a thunderstorm or some other unforeseen barrier came in my way.  When I read what I had written, I realized that whining about it wasn't going to do me any good.  I saw that I had about 3 hours before I needed to cook dinner, and I took advantage of the opportunity.  There is still a lot more work to do, but I was able to make a major dent in the work.
Plant—basil, Emerit Filet Pole Beans, Blue Lake Pole Beans, Christmas Lima Beans, two types of cucumbers (can't remember the names of them off of the top of my head).  I'm still trying to find room in the garden to plant another zucchini or two. 
Harvest—Romaine lettuce, green onions, white and red onions, crookneck squash, zucchini, cherry tomatoes, tomatoes, blackberries, 4 types of beets, peas, basil, bok choy, Chinese cabbage, and 3 purple plums.  The plums were our first from our trees, and while ever so slightly tart, we enjoyed every bit of them.  We'll pick more in the next couple of days as they continue to ripen.
Preserve—Chopped onions, potato and kale soup, zucchini all in the freezer.  I saved pea seeds and broccoli raab seeds.
Waste Not/Reduce Waste— I've been working hard to watch the food waste in the house.  Since we made two back to back trips for funerals earlier in the month, there was more food waste at that time, and I don't want it to continue.  
We passed down a few toys to my baby nephew.  I've learned that the satisfaction of giving them to the baby is an incentive for her to clean out her room.  I'm afraid my sister is going to see us coming and run the other direction!  ;)
I've not been as good about the paper recycling this week—need to get back on track on that.  All of the other recycling and composting efforts remain consistent, but for some reason I've been lazy and have been throwing away some paper rather than walking back to our home office to put it in the recycle bin.  Since it doesn't happen all of the time, I'll watch for a trend to see if I can better nip this in the bud.
Want Not/Prep/Storage—Hubby was finally in need of some more jeans.  After patching them, retiring some to work clothes, and using others as rags, it was time.  Daughter and I picked him up some as part of his father's day gift. 
I weeded and weeded and weeded…did I mention that I weeded the garden this weekend? 
Building Community Food Systems— A friend who has a CSA basket was out of town this weekend, and we picked up her basket.  Our cucumbers haven't yet grown large enough to pick, and it was nice to have a medium sized cucumber to add to one of our meals.  We also purchased locally grown grassfed beef, milk, buttermilk, ice cream, and a biscuit from the farmers market.
Our next door neighbors had some blackberries that came up in a plot near their dogwood.  We've been eyeing them closely, and when they were outside on Friday we told them about them.  The neighbor wasn't too interested in them, and he said we could eat all we want.  Well, he didn't have to tell us twice! 
Our church has a vegetable cart out front on Sundays, I picked up a large bag of green beans and some zucchini from it. I didn't plant as many zucchini as I did last year, and I'm starting to get a little nervous that I might not have enough to preserve.  Having a few extra will give me a little security that I might be able to start dehydrating some this week. 
Eat the Food— I did a little more baking this week than I normally would have in the heat of summer.  I made a new recipe this week—whole wheat pumpkin and raisin bread.  It wasn't a quick bread and used yeast as the leavening agent.  Since it had a lot less sugar in it than a traditional raisin bread might, it will be a recipe that I'll use again.  We should have butternut squash this fall which would be terrific instead of the canned pumpkin I used this time.  I made the traditional Father's Day breakfast of homemade cinnamon rolls for my hubby.   I was so tired when I started making the dough that on the first try I added 1 1/2 TABLESPOONS of salt instead of the 1 1/2 TEASPOONS that it calls for.  Yikes!  The second batch was delicious though!
We had some Swiss Chard that we needed to use from the CSA basket we picked up for a friend this weekend.  Since it is our family's least favorite among the greens, I decided to try something new this time.  I sautéed it in olive oil with a little salt, pepper, and garlic as usual.  Then, while it was still hot, I added chunks of sheep's milk feta cheese on top.  The result was one that pleased everyone, well at least as pleased as we can be given that it isn't our first pick of foods.