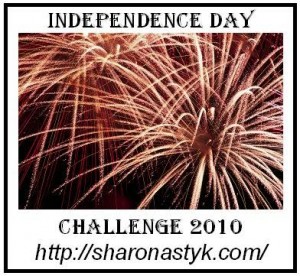 We participate in Sharon Astyk's Independence Days Challenge. This is our weekly update.
It was another dry week in East TN. While the garden is pretty piddly in comparison to last year, I have hope that the succession plantings will continue to fill in and add to our yield.
Plant— Nothing planted this week.
Harvest—When I first posted this, I forgot to add the garlic that we harvested this week. It was my first year to grow garlic, and I can't think of why I never grew it before. It is soooo easy! blackberries, plums, a few blueberries, squash, zucchini, green beans, jalapenos, onions, green onions, ridiculously small and gnarled cucumbers, cherry tomatoes, tomatoes. Blackberries and blueberries from a local pick-your-own farm.
Preserve—Garlic curing in the potting shed. 12 pints pickled beets, wild blackberry jam, watermelon rind pickles, 4 quart bags of blueberries in the freezer, 1 bag of blackberries in the freezer
Waste Not/Reduce Waste— We continue to collect the water from kitchen tasks and bring it down to the garden. I made watermelon rind pickles instead of composting the rind from an organic watermelon we bought this week.
Want Not/Prep/Storage— Not much new in this area this week.
Building Community Food Systems— Daughter and I picked wild blackberries at a friend's house, which was absolutely wonderful. The following day we went with friends to a pick-your-own farm for blueberries. At the last minute, I couldn't resist picking a few blackberries. As we were picking blueberries, I asked our daughter if she would like to make a cobbler by herself with the blueberries she picked herself. While she usually helps in the kitchen, this was the first time she made a cobbler almost exclusively alone. ( Don't worry, I took care of the oven part.) I wish I had a picture of the proud look on her face as we served it for dessert.
Eat the Food— Our daughter's very first cobbler was hands down the best I've ever eaten in my life.