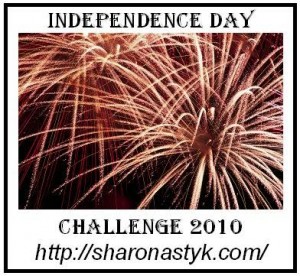 We participate in Sharon Astyk's Independence Days Challenge. This is our weekly update.
It rained!!  I wanted to sing, "Rain, rain, please, please stay!"  The rain barrel is full, and the plants are so much happier.  The succession plantings are starting to fill in, and the garden is looking just a tad bit better than it has. 
I made some headway in preserving this week.  I decided to buy more foods at the farmers market to preserve.  If the garden yield increases enough for me to preserve from it, then I'll be pleased in the winter when I have even more foods in my storage. 
This week in the garden I had a few "happies".  I was working in one of the vegetable beds only to lift the cucumbers to move the plant out of my way, and I was surprised with 2 regular looking cucumbers.  All of the cucumbers up until this time have been gnarled and wonky.  These were perfect, and there are even more on the vine to pick later.  I had all but given up on them this year.  The other "happy" was when I realized that the Moulin Rouge sunflowers had bloomed.  Is there a happier flower to be found than a sunflower?  They are gorgeous. 
Plant— Two tomato plants that I've had sitting in the shade for a month! 
Harvest—Red and white onions, scallions, basil, green beans, okra, Pawnee shelling beans, bell pepper, cucumbers, zucchini, squash, cherry tomatoes, tomatoes, flowers.
Preserve—Okra and tomatoes in the freezer, squash in the freezer, bell peppers in the freezer, 10 quarts green beans (it is a start, at least), 2 quarts refrigerator pickles.
Waste Not/Reduce Waste— We continue to collect the water from kitchen tasks and bring it down to the garden. Other than the usual composting, recycling, and energy saving efforts, I don't have anything else to report.
Want Not/Prep/Storage— Not much new to report in this area this week.
Building Community Food Systems— I helped with the men's breakfast at church.  I picked the church vegetable garden.  A friend joined us at the Market Square Farmers Market this weekend.  It was her first time, and I had the best time showing her around and introducing her to my favorite farmers. 
Eat the Food— Ahhhh, the first okra and tomatoes of the year!  Yum!  I was proud to finally have enough shelling beans to actually cook for a meal this year.  Last year the rabbits attacked them, and we only had enough for seed.