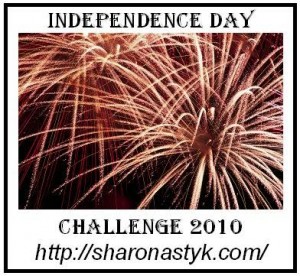 We participate in Sharon Astyk's Independence Days Challenge. This is our weekly update.
Plant— I have a few hollyhocks, an elephant ear and a few other plants that a friend at church passed my way.  It rained yesterday and this morning so my plans to get them in the ground were foiled.  I'll try to get them in the ground this afternoon as if it dries up a bit. 
Harvest—Onions, scallions, basil, blueberries, jalapenos, herbs, okra, bell peppers, cucumbers, crookneck squash, tomatoes, and flowers.  I had plans to pick peaches at a local farm on Friday, but they weren't ready yet.  Instead our daughter and I picked around 8 lbs of thornless blackberries and bought a couple of cantaloupe while there. 
My husband brought me jewels this week, or at least that is what I call the beautiful red raspberries he picks for me each year.  He has a spot that he has marked and every year he makes me very, very happy when he returns home from work with my rubies in tow.  We ate some and froze the rest for a future cobbler. 
Preserve—I made a batch of pickled beets and a batch of blackberry jam.  Froze some blackberries and the raspberries mentioned above. 
I hope to pick peaches this week and to get my hands on some corn. 
I'm starting to feel a bit better about the home canning now that I have a few of the basics stored.  I liked Crunchy Chicken's word for it—canxiety.  Until I put away enough jam, a few green beans, and a few fruits in storage, I feel a little out of sorts. 
Waste Not/Reduce Waste— I think I've done a little worse in this area this week.  I had a few foods in the fridge go bad before I could use them.  The green beans have turned to seed on the earliest vine because of my lack of picking (at least I can use the seed, though!)
I passed a few egg cartons to a friend who owns chickens.
Want Not/Prep/Storage— I cleaned out the freezer and reorganized.  I'm embarrassed to say I found a quart bag of blueberries from last year in there!  Whoops!  We'll use them quickly this week to make room for other things. 
I added a lot of food to storage this week, probably the most significant addition being 12 cans of tomatoes from the grocery. 
My dad moved into his house this week.  After months of living with us and all of that adjustment, I'm now missing him.  He's only a few miles away, but he had become a fixture in the household. 
Building Community Food Systems— I didn't make it to the farmers market, missing a week for the first time this year.  Since our garden is not yielding as much as last year, I'm especially disappointed that I missed going.  I'll try and go to some of the smaller markets this week to fill in with what we need. 
We had quite a few communal meals this week—having a few of our daughter's friends over on different evenings for supper, going over to a friend's house another night, helping to host a bridal shower at church, and eating the first supper my dad cooked on his stove in his house.  A friend who owns chickens gave us half a dozen eggs as a thank you for having her daughter for a sleepover. 
A friend at church passed some larger zucchini to me, knowing I could use them for zucchini bread.  I helped with the food pantry at church this week. 
Eat the Food—  I can't think of anything that different or "fancy" that I made this week.  We had a lot of fresh veggies and beautiful fruits, and they didn't need dressing up too much.