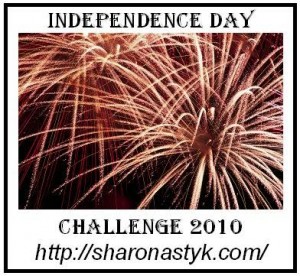 We participate in Sharon Astyk's Independence Days Challenge. This is our weekly update.
The peaches were ripened enough for us to pick last week.  We went with friends and their children to Black Oak Farms in Corryton, TN, and enjoyed seeing the peach juice faces and shirts of our children as they devoured the first ripe peaches of the season.  I never think that I'm getting that many peaches, but when our daughter fell ill the next day and I had a counter full of them to address, I was a bit overwhelmed with fruit.  Peaches go bad
I'll make at least one more trip so that we have plenty of peach ice cream in the freezer and maybe another batch or two of canned peaches in the cupboard.   Since the farmer also sells corn there and I've yet to put up a kernel, I'll probably make the trip for both next week.  I'll probably overbuy then too, but I know I won't be sorry when we are enjoying the taste of summer in the dead of winter.
The weather has been hot with thunderstorms off and on all week.  Just as I get set to plant something or make my way out to the garden, it will start to rain.  Don't misunderstand, I'm happy to see the rain, I'm just having to work around it to get chores accomplished. 
Plant— A church friend gave me some of her extra flowering plants, and they are making wonderful additions to the garden.
Harvest—peaches! At home we harvested bell peppers, onions, a few okra, cucumber, tomato, a handful of blueberries, and our very first watermelon.  The watermelon was a smaller heirloom variety, and I wasn't sure what to expect.  I have only grown larger watermelons in the past, but when I inspected it, it had all of the tell-tale signs of being ready (black spots on the bottom, aren't those called "flea bites" or something like that?, heavy for its size, and the stem had turned brown).  I was so relieved to find that it was a deep pink inside and tasted sweet.  I took such delight in seeing our daughter not even wait for me to have cut all of the pieces before devouring a slice.  Tis the season for messy faces and hands!
Preserve—Peaches!  I made two batches of jam and one large batch of canned peaches.  We made peach ice cream that is absolutely fantabulous!  I put some bell peppers in the freezer to use in the winter.
Waste Not/Reduce Waste—Since our daughter was ill this week, I shifted my plans to work inside a bit more.  I worked when she rested.  I tackled our storage room, a chore that I've been putting off for way too long.  I was in the mood to purge, and purge I did.  Our church is having a rummage sale this fall and has started collecting donations.  I loaded up a car trunk full of goodies that someone else will enjoy.  I found a couple of sets of china that were lost in the move to our home.  I kept one and passed the other to a friend who I knew would enjoy it.  Her birthday is coming up in September and I called it an early birthday surprise for her.  A couple of things had to be thrown away, but most was either recycled or given away to others.
It was such a waste for these to not be used for all of these years.  That is the way it is with "stuff" it can become a burden—something that you hold on to because of some vague and nameless obligation not to part with things that were passed down.  I was in the mood to release all of that and let the items go to people who would enjoy them and use them.  It is amazing how wonderful it felt to look at the completed task, almost a tabula rasa of sorts.  Not a clean slate to fill with more junk, mind you, but rather a fresh start at simplifying. 
Simplifying has been on my mind and heart a lot lately.  With all that the last year has held, both good and bad, we've been bogged down.  The more complicated things get, the more anxious and out of sorts I become.  Stripping down, not buying or adding to unless truly needed, cleaning and purging have calming effects.  As I cleaned the house on Saturday evening (I know, big night on the town, right??), I made a point to be thankful as I worked. 
With floods of consumerism just about everywhere, I can get caught up in the "I wants".  When on a recent bout of the "I wants" my husband asked me, "Do you really want that?"  Of course the answer as I delved deeper within was no.  I'm thankful for what we have, and I'm humbled that we have so much when so many I work with have so little.  I am making an effort to remind myself of that daily. 
Pardon the tangent.  More on wasting not--I noticed when at my dad's house this week that he had started a recycling bin in the kitchen.  I was thrilled! 
Want Not/Prep/Storage— In the purge and tidying above, I found a few things that we could put to use in the house and some that my dad and sister could use.  I helped my father go through some of his boxes that he had brought from Memphis, and it was amazing how many duplicates he had of things.  I helped him get things organized at his house.  In particular, we arranged the pantry so that he would use items with the first in, first out approach. 
I finally staked the second round of pole beans.  They were tying themselves together and finding anything they could to climb.  I untangled them and added some bamboo stakes to make a teepee. 
Building Community Food Systems— I made a few donations to the food pantry at church and checked to see if we needed anymore boxes made.   Daughter and I helped with the Angel Food Ministry distribution at church.  On Sunday evening, we attended an old fashioned ice cream social at church.  We brought peach ice cream, of course.  We're planning a few more trips to local farms to pick with friends and their children.  One friend is just starting to can, and I'll be giving her a tutorial.
Eat the Food—  MMMMM, peach ice cream was perhaps my favorite thing that I made this week.  Since I was tired and "over" the peaches at the point when I made the custard, I decided to refrigerate the peaches and custard mixtures separately and freeze the next day.  It was so much easier, and I'll make a habit of doing so in the future. 
I also made homemade enchiladas for the first time I can ever remember, and they were delicious.  I was amazed at how much easier they were than I thought they would be.  They will definitely go into the meal plan rotation!