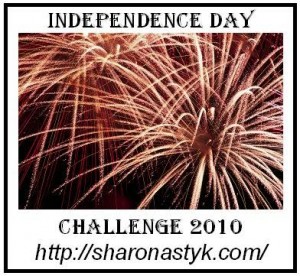 We participate in Sharon Astyk's Independence Days Challenge. This is our weekly update.
I was terrible about getting in the garden this past week.  The week was a bumpy one for me, with highs and lows that occupied most of my time and emotional and physical energy.  I did a little work, but I didn't accomplish nearly as much as I should have.  Oh well, better luck this week!
Plant— I added a few flowering plants to the gardens this week and moved around some other stuff.  It really was too hot to have done it, but I tried and baby the plants with more water to help them get established. 
Harvest—the rest of the beets from the garden, cucumbers, bell peppers, onions, green onions, tomatoes, squash, Pawnee shelling beans, a few okra, and, believe it or not, some asparagus that were hiding in the shade of the other fronds.
Preserve—I pickled the beets and made some refrigerator pickles with the cucumbers.  I froze the bell peppers and shelled the beans to use as seed for next year. 
Waste Not/Reduce Waste—Hubby made our a trip to the recycling bin.  Since we had some recycling from my dad and the church added to our stuff, and since it had been longer than a month since he had been, the truck was loaded down with recycled goods.  I'm so glad that we recycle when I see all of it together like that.  I can't imagine all of that going into the landfill.  Hubby, daughter, and I continue to work on using less to begin with (reducing as compared to just recycling), hence the longer time in between visits to the recycling center.  I continue to help my dad empty boxes, organize, and clean his home.  I brought a few more donations from him to our church for the fall rummage sale (in November).  I made a trip to Interfaith Health Clinic to drop off some donations of first aid supplies. 
Want Not/Prep/Storage— I weeded most of the gardens.  Hubby mulched the front beds.  My aunt gave me a few dresses and my sister gave me a brand new pair of fancy dress shoes that she didn't like as hand-me-downs. 
Building Community Food Systems— I worked in the food pantry making up some boxes for easier distribution.  This week I'll be adding some supplies to the food pantry.  I brought some jams and pickled foods to my family in Memphis as hostess gifts this weekend when staying with them. 
Eat the Food— I began our 2 week eat from the pantry food challenge on Monday.  I planned out two week's worth of meals and snacks for our family where we eat from the garden and our food stores.  Thus far it has gone well.  We've had more than enough, and we didn't even need to eat one of the meals I had planned because of leftovers.