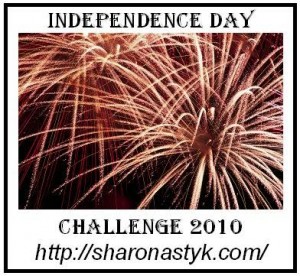 We participate in Sharon Astyk's Independence Days Challenge. This is our weekly update.
The weekend brought us slightly cooler temperatures, if you can really say that 92 is "cooler".  It made spending time outdoors a bit more bearable, though I won't say that I actually accomplished all that much more than last week.
Plant— Nothing planted.  The plants that I put in over the last few weeks are really struggling in the heat.  I doubt I'll plant anything until towards the end of August. 
Harvest—cucumbers, green beans, tomatoes, green onions, yellow onions, watermelons, bell pepper, jalapenos, basil, just a few blueberries (not much more of them left on the bushes now).  I also helped with the church garden on Saturday, and I really didn't put a dent in what needed to be done there.  We picked okra, beans, zucchini, and squash there.
Preserve—I froze some more bell peppers.  Nothing else preserved, in part because we aren't making any food purchases for the first 2 weeks of August and don't have an abundance in our home gardens.
Waste Not/Reduce Waste—Other than the usual conservation and recycling efforts, I can't think of anything in this category.
Want Not/Prep/Storage— I restrained myself very well during the Tennessee Sales Tax Holiday Weekend.  The main things that I wanted to be sure we purchased were underwear and a swimsuit both for next year for our daughter.  Those are items that we just don't do as hand-me-downs.  I was tempted, and I looked, but I didn't see any other clothes that we need now and couldn't buy for just as cheap later.  I picked up a handful of school supplies to add to the craft supplies for our daughter.
Building Community Food Systems— I shopped for the church food pantry and did some work organizing in there this week.  I helped with the men's breakfast at  church on Saturday, and like I mentioned above, helped with the garden at that time.  
Eat the Food— We've made it through a week of our 2 week eat from the pantry food challenge.  We've had some hiccups with planning, but overall are learning from the experience and doing well.