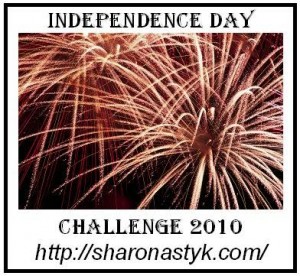 We participate in Sharon Astyk's Independence Days Challenge. This is our weekly update.
It was very hot in our region this week, though we did have a little rain here and there to cool us slightly.  The tomatoes are finally deciding to turn red, and I'm glad that they decided to cooperate with me after all of this time.  I have been watching our butternut squash almost daily for signs of fruit.  There are plenty of flowers but I haven't seen a single fruit yet.  I'm really hoping that they pollinate and produce for us again.  We had such a bounty last year that I even reached a point of not wanting anymore.  Now that we haven't had any for a while, I'm craving them again.  I'll keep my fingers crossed that they produce.
My right forearm has been covered in blisters that look like poison ivy but do not itch like poison ivy since I cut the okra last weekend at the church.  I have never had okra itch that bad, and I'm going to lay off picking the church garden except to pick beans this week.  I guess I learned my lesson and will wear sleeves and gloves next time!
Plant— Nothing planted.  The plants that I put in over the last few weeks are really struggling in the heat.  I doubt I'll plant anything until towards the end of August. 
Harvest—cucumbers, green beans, tomatoes, green onions, yellow onions, watermelon, okra, bell pepper, basil. 
Preserve—From the church garden, I blanched the green beans that were leftover and needed preserving.  I made okra and tomatoes and froze that dish as well.  I plan on using these this fall and winter to serve at the children's program on Wednesday nights.  I cheated from my 2 week food challenge and bought corn. I blanched it and froze it for use later in the year.
Waste Not/Reduce Waste—We brought a few more things for the church rummage sale for my father.
Want Not/Prep/Storage— A friend at church passed a bag full of hand-me-downs to our daughter that looked like they were almost brand new.  She was thrilled. 
Building Community Food Systems— A friend phoned me about being a speaker at the local Weston A. Price meeting to do a talk on food preservation like I did for them last year.  I'll post something about this on my blog if the scheduling works out.  I worked in the church food pantry and plan on purchasing more supplies later today to restock some items.
Eat the Food— Yesterday was the last day of our 2 week eat from the pantry food challenge.  I was really surprised that I felt as deprived as I did, and I think that was mostly related to the garden not producing as well as it has in previous years.  If the same challenge had taken place last year, we would have had more vegetables than we knew what to do with.  It reinforces that I'm going to have to do a lot of planning this winter and do things differently next summer with our crops. 
The second part of my feeling a bit deprived is that I planned the challenge for our family while it was the growing season, and for two weeks I didn't go to the farmers market.  Granted, I was able to barter a bit and had some veggies given to us, but I really miss it when I'm not able to attend the market on Saturdays.  I love being there, seeing the people, visiting with friends, etc.  I know I could have attended and not bought anything, but I knew I wasn't disciplined enough to attend the market and not make a purchase. 
It is important that I also clarify here the difference between a thought/feeling of deprivation and actuality.  We had more than enough food every day.  In fact, I'm sure I overate many of the days and need to away from overindulging so much.  On Sunday, we had my dad over for lunch.  We ate our fill and had plenty of leftovers.  We didn't have as many vegetables from the garden and I didn't go to the farmers market, but we had more than enough to eat. 
I realize how privileged I am to even be talking about such a challenge—for us, this was a choice, not a have to.  Having an abundance of so much is not something that I take lightly.  I know how lucky I am to have had so many who taught me skills related to food and gardening at an early age.  I know that there are so many in our community who go hungry, don't have food stored when things get tight, or who don't have the same amount of time, energy, and know-how related to food production and preparation.   Putting myself in a situation when I reflect on such things with even more empathy gives me more ideas on how to help.  It reinforces for me that I continue to teach others how to garden, preserve foods, and create a stockpile and  that I find ways to reach those who need these skills the most. 
I'm glad we worked our meal planning the way we did these last couple of weeks.  Because I focused the meal plans around items that needed using instead of newly preserved foods, it allowed me to clean a few things out of the freezer and pantry to make room for other things.  It gave me a sense of how things would be if we were required to eat from our food stores for one reason or another.  The challenge also helped us to recoup some of the extra spending from June and July when we were buying and preserving more local fruits and vegetables.   It taught me a lot about myself.  It humbled me and made me much more appreciative of all of the little things we have.