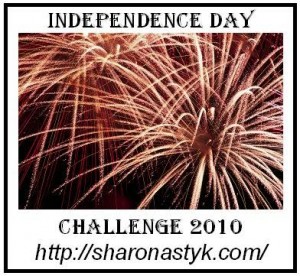 We participate in Sharon Astyk's Independence Days Challenge. This is our weekly update.
We had more rain in our area this week, which has been good for the plants.  Most of the summer vegetables are showing signs of slowing down.  I finally saw a fruit on the butternut squash, which gives me hope that we might actually have some this year.  It is about the time that I start planting the fall garden, and I'll be working on that later this week when the beds dry out enough to be worked. 
Plant— Nothing planted. 
Harvest—cucumbers, green beans, tomatoes, shelling beans, 1 watermelon, okra, bell peppers
Preserve—Canned pears in syrup, froze bell peppers, froze about a quart of tomatoes.  These are the first tomatoes we have had enough of to preserve all year long!  It is a good thing that I still have a few from last year that I canned.  I made refrigerator pickles.  I would have had another quart, but I had a jar crack on me for the first time in all of my years of canning.  UGH—how frustrating to go through all of the steps and have that happen!  I made a few quarts of easy jalapeno rings.
Waste Not/Reduce Waste— We cleaned out the church refrigerators, a job that needed tackling for months now.  There was way too much that needed discarded, meaning that we need a new system for organization.  I am going to make a sign for the refrigerators encouraging people to mark anything put in the fridge if they want to keep it or if it is only to be used for a certain purpose.  Otherwise, anything in the fridge is assumed to be used for anyone who needs it.  I've found that sometimes people will put leftovers or something that they want to share in the fridge, but people are too timid to use it if they don't know why it is in there.  I'll clean out the refrigerator once a month to make sure that the containers are recycled.  We'll see how the new system works. 
Want Not/Prep/Storage—  I found some navy drapes that Hubby and I weren't using anymore.  These were perfect for the office in my father's home, and we brought them over for him.  Hubby tiled a backsplash in the kitchen there and is painting trim this week.  Hubby put up the monkey bars as part of our daughter's play area.  She LOVES them!   She appreciates them so much more because her daddy made them than she ever would have something that was store bought.  I was the same way.  My jungle gym that I had as a kid was a hodgepodge of leftover construction materials from my dad's jobs, but it felt tailor made for me. 
Building Community Food Systems— On of our daughter's teachers gave us some pears from her tree.  I was absolutely thrilled to have them, and she said she might have some more this week for us.  I'll keep my fingers crossed.  I baked her some homemade whole wheat banana bread as a little thank you.  We went to the farmers market, and it was so nice to visit with farmers and friends after having been away from the market for almost 4 weeks. 
Eat the Food— Inspired by Blue Frog Creations post on fried okra, I made some this week.  Folks from around the country tend to think that Southerners fry all of the time, which is funny because most of the people I know rarely if ever fry at home.  Because I do it so rarely when I do go to the trouble, I find that I fry just about everything in sight.  As part of our supper that evening I became a little overzealous—I fried okra, green tomatoes, and when we had leftover home milled cornmeal Hubby and I whipped up some hushpuppies to go with them.  We had a ridiculous amount leftover, but the meal was a nice treat.