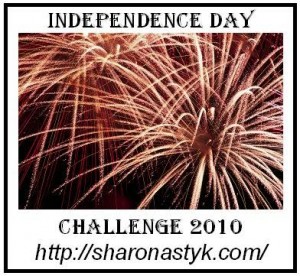 We participate in Sharon Astyk's Independence Days Challenge. This is our weekly update.
The weather has finally started to feel more comfortable outside.  We've had less humidity in the East TN area, and although temperatures have still been in the 90s, it hasn't been too unbearable when working outside. 
When inspecting the garden this week, I found that the onions are starting to sprout green again.  The basil is full, and it looks like I need to make a big batch of pesto for the freezer as soon as I can pick up some pine nuts.  The brandywine tomatoes are cooperating and making a few more red tomatoes.  If the weather continues to cool, though, I'll need to make a batch of green tomato relish so that there is no waste of the tomatoes.  The butternut squash have continued to cooperate, and I saw another 3 or so fruit on the vine.  The crop won't be what it was last year, but at least we'll have a few.  Something has been getting into the watermelon, and I had to put one in compost because it had been eaten by something other than us.  The okra and yellow squash continue to produce, though not as much as in previous years.  The bell peppers have been the best crop of the year, and they are still fruiting and producing large peppers for us. 
Plant— Nothing planted.  Not sure why, just didn't get to it.
Harvest—Bell peppers, 1 watermelon (and one for the compost bin), squash, tomatoes, onions, green onions, herbs, okra, green beans
Preserve—A friend emailed me last week and said that she had some pears that she would share with me.  When I arrived to help pick them, she had already done all of the work and gave me half of what she had!  I was thrilled!!  I canned most of them in syrup and have a few more that I've left to ripen a bit in hopes of making jam with them.  If it doesn't work, we'll either enjoy them fresh, or I'll can more.  That same day, our daughter and I went to a pick your own farm where we buy peaches.  I had hoped to pick enough peaches to preserve some more since we've been going through the peach jam pretty quickly. While the peaches were very large after the bit of rain we had, they weren't as sweet as they had been earlier in the season.  I picked about 9 lbs of them, and we enjoyed them fresh instead of worrying about preserving them.  I froze a few more bell peppers and some green onions.  I bought a pound of garlic at the farmers market.  Some was shared with my dad, some will be used for "seed", and the rest is in dry storage and will be used throughout the year in addition to what we harvested from our garden. 
Waste Not/Reduce Waste— Hubby called the local agricultural extension agency to ask about the Thousand Canker Disease and what we can do with the walnut trees that are dying on our property.  They don't really have much of an answer at this point, and they only told us to leave them standing.  We can't have the wood, which is beautiful BTW, sent off to be milled.  If we want to mill it, we will have to hire a miller to come to the house like we did a couple of years back with the maple and walnut. 
A friend at church passed some more clothes to our daughter as hand-me-downs.  I visited a local children's consignment sale and bought a few winter and fall pieces that we needed to fill in for our daughter's winter gear. 
Want Not/Prep/Storage—  As I said above, with the garlic we already have harvested, we probably have enough to last us until we harvest next summer.  I caught a great deal on Tom's of Maine toothpaste and stocked up for our daughter. 
Building Community Food Systems— We visited the farmers market this weekend and bought garlic, milk, and ground beef.  I tidied up the food pantry at church.  My cousin and I plan to barter her okra for our bell peppers. 
Eat the Food— No new recipes tried this week.  I discovered that the syrup/juice from the pickled beets that I make are fantastic with a bit of oil as a salad dressing and salt and pepper.  YUM!