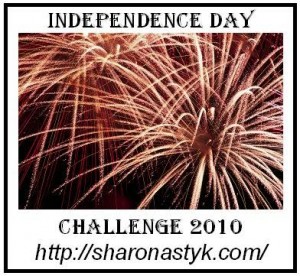 We participate in Sharon Astyk's Independence Days Challenge. This is our weekly update.
Boy, did it ever rain hard in the Knoxville area this weekend!  The weather has continued to cool, but the forecast stays in the 80s.  We have started to really notice it getting dark earlier and the sun not rising as early in the morning.  Fall is almost here!
Plant— I had planned on planting over the weekend but with the hard rain on Saturday and the soggy soil on Sunday, it didn't happen.  The lettuces, bok choy, and Chinese cabbage are coming up nicely.  I'll try and get a few kale varieties in the ground in the next couple of days.
Harvest—Bell peppers, 1 summer squash, tomatoes, onions, green onions, okra, green beans.  No potatoes harvested this weekend because of the wet weather.
Preserve—Hmmm, I don't think I preserved anything this week other than putting leftovers in the freezer.
Waste Not/Reduce Waste— Nothing really out of the ordinary here. 
Want Not/Prep/Storage—  Nothing really new to report in this area.
Building Community Food Systems— A friend was out of town this weekend, and we picked up her CSA basket.  Because of my schedule on Saturday, I needed to pick up the basket early, and it was monsoon weather when I left.  I had an umbrella and a raincoat and river shoes, and I was still soaked when I finished my trip.  The farmers that I saw were still in good spirits in spite of the downpour, even with no other customers in immediate site.  The rain cleared for a bit in the afternoon, and I'm hoping that other customers made their way out to the market then.  When farmers become your friends and an extension of your family, you realize how much work and time they put into their crops.  A weekend with a bad turnout at the market can greatly affect their bottom line.
I am helping to organize the meals for the children's program at church on Wednesday nights.  I also helped with the men's breakfast at church on Saturday. 
Eat the Food— I can't think of anything that was really different that I made this week.  I posted my breakfast casserole recipe on my new Couponing in Critical Times Facebook page, though.