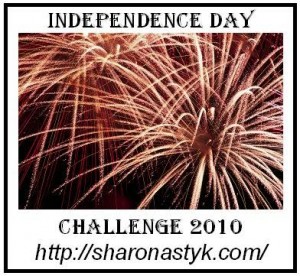 We participate in Sharon Astyk's Independence Days Challenge. This is our weekly update.
AAAAAH was the resounding response to the wonderful, cooler weather this week.  How we enjoyed playing and working outside!
Plant— We planted a few types of lettuces, bok choy, and Chinese cabbage.  I had a late start to our fall garden, but as my friend Jennifer says, "Plant it and see what happens."  Even if we don't have as high of a yield, it was fun planting them with our daughter.
Harvest—Bell peppers, 1 summer squash, tomatoes, green tomatoes, onions, green onions, herbs, okra, green beans, leeks, flowers for arrangements, and red potatoes.  I pulled all of the red potatoes out of their potato box and was very, very disappointed in what we harvested.  Hubby and I talked for a while about what we must be doing wrong.  Luckily we didn't have any real problems with pests this year, so that wasn't the problem.  Perhaps it was the soil that we chose and added to the mulch—maybe it was too compact?  I have no idea, but the pitiful yield for the cost of the potato box, work, and time put into it was ridiculous.  I'll be interested to see what the yield is off of the other varieties before we give up on the project completely. 
The reason we have chosen to grow in potato boxes is the lack of gardening space elsewhere that we can dedicate to potatoes.  The boxes are said to increase the yield because you can more easily "hill" them by adding boards to the boxes and more soil as the plant gets taller.  The Yukon Golds were our largest crop from last year.  Their yield will give me a better feel for if it is our error or something else.
Preserve—I froze bell peppers.  Bell peppers of all things have been our best crop of the year.  How I wish it had been a crop that I use more, but I'll take what I can get.  We bought some crowder peas from the farmers market.  My dad and daughter helped me shell them.  I froze about half of the amount for use in soups during the winter months. 
Waste Not/Reduce Waste— A friend from church gave us some more clothes for our daughter.  We have clothes for this year and the next two years of her life thanks to others wanting to share with us. 
No AC for us this week—we opened the windows and enjoyed the delightful weather.  The only bad part is that all of our allergies are acting up as a result.  I friend recommended a nettle and herbal mix of teas that she uses for hers, and I'll give it a go this year.  As much as I like the benefits of nettle, I do not enjoy the flavor, but we'll see how it works. 
Want Not/Prep/Storage—  We loaded up on pasta for the pantry this week.  I shared some with my dad for letting us print coupons from his printer so that we could buy more.   Daughter and I spent the day in the garden on Saturday, and it looks 100% better than it did before.  Hubby and daughter sealed the maple for the back side of her playhouse.  Very cute watching them work together!  Hubby was fantastic and changed my dad's oil for him.  It is a huge money saver to change your own oil, and I so appreciate that he does this.  (I'm perfectly capable BTW, but he is nice enough to do it for me). 
Building Community Food Systems— We visited the farmers market this weekend and found a new farmer there who was selling goat cheeses.  We only bought feta and a spicy chevre, but how I wish we'd bought more!  We will definitely be purchasing from him again. 
This month the children's program is back in session at church for the fall.  I will be helping to plan and cook the meals for the kids each week.  Thus far, we've been using foods from the freezer before they are past their prime.  Next week, though, I plan to start using some of the bounty from the church garden.  I hope that this will help the kids get more excited about the vegetables and help to teach them about how to grow their own foods.  Bonus—it is virtually free food and will definitely help with the budget for that program!
Eat the Food— I made Roasted Green Tomatoes with Goat Cheese for the first time this week.  If you like green tomatoes, you should definitely give them a try.
A church friend suggested that I roast some okra next time I harvest.  She said to just drizzle them with olive oil and add seasoning before roasting.  I've never tried them this way and can't wait to give it a whirl.