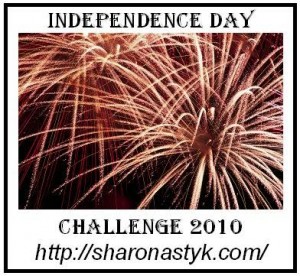 We participate in Sharon Astyk's Independence Days Challenge. This is our weekly update.
We've been enjoying the sunshine and nicer weather this week.  I'm hoping for more fall like weather as we enter into autumn this week, as it is still in the 80s and 90s most days in East TN. 
Plant— Nothing planted this week.  I've decided that I'm going to scale back the fall garden a bit this year.  My lima bean teepee is overflowing, the tomatoes are starting to kick into gear and produce, and the okra is also being more prolific.  Because of the bounty, I don't have as much room to plant the next wave of veggies.  I have a few types of lettuces, bok choy, kale, and Chinese cabbage planted.  I'll plan garlic, fall bulbs, and maybe some more kale and I'll scale back the rest.
Harvest—Bell peppers, summer squash, tomatoes, onions, green onions, okra, green beans.  My mushroom log is covered in shitakes.  I plan on harvesting them in the next couple of days, and I might try drying them instead of using them right away.  This will be our best harvest yet.
Preserve—Bell peppers!  We have plenty of bell peppers for all of the casseroles and dressings we could ever want this winter!
Waste Not/Reduce Waste— I wrote a series on the blog about saving on electricity and gas in hopes that it will be of help to readers. 
At our children's program on Wednesday nights, I help with the suppers.  We use washable plates and silverware.  Up until this year we had been using disposable cups.  I asked Olive Garden if they would be willing to donate some of their cups for the children to use, and they did!  While not perfect because they are plastic, they will be washed each week and reused eliminating the need for disposables/recyclables. 
Want Not/Prep/Storage—  We swapped furniture with my dad.  Sounds funny, right?  He needed a table for his desk, and we passed one that we had in our home office on to him.  He had given us a chair from my grandmother's house, and we put it in the table's place.  Our daughter said, "That's cool.  It is nice to share furniture.  It is nice to share what you have with other people." 
Building Community Food Systems— We visited the farmers market this weekend.  We bought 1/2 a lamb with a friend and should pick it up this week.  In talking with a farmer who is also a friend there, he told us about eating sweet potato leaves and cooking them as "greens".  He said that they were delicious!  One of the reasons I love going to the market is learning little tidbits like this. I never would have known that sweet potato leaves were edible if he hadn't shared. 
I ran into Margaret of Blue Frog Creations at the market and told her about a farmer selling goat cheese and our milk farmer, Cruze Dairy Farm.  I remember Sharon writing about being a "pusher" once, encouraging friends to buy local products because of how thrilled and excited she was about the products.  I think I might have become a "pusher" too.   I'm no drug dealer, but once you start eating great food, it does become addictive.  ;)
Eat the Food— We finally tried okra on the grill.  Hmmmm, I'm not sold on it.  Our daughter loved it and gobbled it up.  It was really fine, and for people who don't like slimy okra, they should give it a try.  However, I don't mind the slime.  I kind of like it as a matter of fact, and grilled just didn't do it for me.