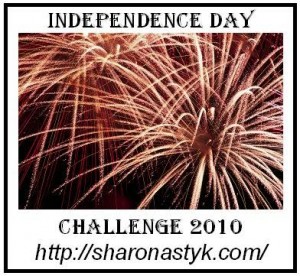 We participate in Sharon Astyk's Independence Days Challenge.
Today it is rainy in our area with a cold front moving in this week.  I might be pulling the rest of the green tomatoes to preserve if frost is threatened.  It has been so warm this fall that I still have plenty of tomatoes rolling in, and I've been hesitant to call it quits yet. 
Plant— Nothing planted this week
Harvest—Bell peppers (red and green), tomatoes, onions, green onions, a few okra, a few green beans, herbs, lima beans
Preserve—In the freezer—two quart bags of tomatoes, chopped bell peppers, chopped green onions, chopped parsley.  The butternut squash picked last week were added to dry storage after they cured outside.
Waste Not/Reduce Waste— Our church held the annual Wienie Roast and Bonfire, and many of the foods that we used were leftover from our Faithstock event.  Waste not, want not. 
Want Not/Prep/Storage—I worked on cleaning and organizing our home this week.  I'd been doing bare minimum for the last few weeks because life has been so busy.  It felt so good to have the house clean and tidy.  Decorated for fall and Halloween using many natural things and decorations we use year after year. 
Building Community Food Systems— I'll be buying for the church food pantry this week, as it is getting a little low.  We had been trying to keep most of the dried goods at a low amount so that they wouldn't go to waste before distributed.  Now that the weather is cooling, we'll begin the process of stocking back up.  We find that more people are in need of food baskets during the holidays.
Eat the Food—I spent most of Sunday afternoon baking—two cakes for my hubby's birthday (the two cake idea was our daughter's), casseroles, muffins, and cornbread.  I made pasta with veggies from the garden this week that was so good.  I'll miss the crispness of fresh vegetables when winter rolls in.  Hubby noticed that I even added chopped okra to the recipe, a veggie not normally added to pasta dishes.  It was quite good with the lima beans, herbs, green beans, peppers, chopped tomatoes, garlic, onions and broccoli.