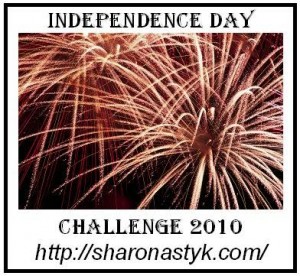 We participate in Sharon Astyk's Independence Days Challenge.
It has been a few weeks since I've updated, in part because life has been so busy around here.  I'm not complaining—I don't know what I'd do with myself if I were bored.  I haven't spent as much time in the garden, but it has remained faithful to us. 
The weather has been very warm this October in our area.  This weekend Hubby and I painted the outside of my dad's house for him, and Hubby had to make  run for sunscreen for us.  When we repainted our home 4 years ago, it was in September to early October and much colder then. 
Plant— Nothing planted this week
Harvest—Bell peppers, tomatoes, onions, green onions, a few okra, a few green beans, herbs, 2 butternut squash (looks like that's all we'll have this year).
Preserve—Other than a few green onions in the freezer, I can't think of anything new.  I gave some bell peppers, onions, and herbs to my dad, and he froze them for later use.
Waste Not/Reduce Waste—I've been working on cleaning out and better organizing our freezer.  Since the bounty this summer was lower, I chose to freeze more instead of can more this year.  Because of that, whenever I open the freezer, I have to dig to find what I need.  I'm afraid something will be forgotten in there and will become freezer-burned. 
Instead of renting or buying a pressure washer for my dad's house, we borrowed one from my cousin. 
Want Not/Prep/Storage—Paint and a few days of hard work vs my dad paying a painting crew to repaint his house= huge savings.  Plus, Hubby and I were able to spend hours together, working alongside one another, talking, and joking with each other.  At one point, I accidentally spilled a glob of paint, and it almost landed on his head!  I probably pushed my body too hard this week, though.  I'm still fighting my cold, and the adage that health care workers make the worst patients is a true one.
Building Community Food Systems— We helped to make tamales at our church this weekend.  I also worked in the food pantry there organizing a bit.  Unfortunately I haven't made it to our favorite farmers market in a few weeks because of busy weekends.  I'm hoping to visit a different one this week so that I can restock items we need.
Eat the Food—I dropped by my cousin's house this week when I was in her area visiting a nursing home.  They made me a plate of Huevos Rancheros for lunch that were absolutely delicious.  I kept wondering to myself why I had never thought of keeping those ingredients on hand for a super fast and inexpensive meal.  YUMMY!