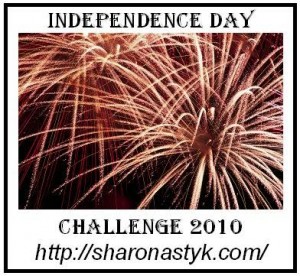 We participate in Sharon Astyk's Independence Days Challenge. This is our weekly update.
Plant— Nothing planted this week
Harvest—Bell peppers (red and green), 1 summer squash, tomatoes, onions, green onions, okra, green beans, flower arrangements, and herbs.
Preserve—I made a huge batch of soup and put most of it in the freezer.  This will make for a simple supper on a busy night.  I also froze some more bell peppers. 
Waste Not/Reduce Waste—I'm working with the Faithstock planning team to secure single stream recycling bins so that there is limited waste at the event. 
Want Not/Prep/Storage—  Our daughter needed shoes and we picked up a couple of pair this weekend. 
Building Community Food Systems— One of our daughter's teachers is going to have a baby soon, and we brought her a half gallon of soup to keep in her freezer for when the baby is born.  Our daughter has used knifes to cut up her own food and a few veggies here and there, but this soup was the first time she was really a chef.  She was a huge help in making the soup that took about 5 hours start to finish.  We had so many veggies from the garden to prep that it wasn't a fast process.  Her help made it go much quicker and made the whole experience more fun. Note—she's 4 1/2.
Last weekend we participated in the tamale making day at our church.  It is one of my favorite social activities that we have, and we always have a blast with the gang there. 
Eat the Food— Not much new here.  We had so many leftovers from the Ladies Night Out event that we ate those for lunch and snacks most of the weekend.