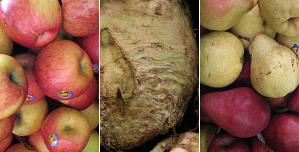 This week's Produce dept. specials at Three Rivers Market are a troika of fall goodness.  Fuji apples, multiple varieties of pears, and a root that tastes like celery - sans strings.  Popular in Europe, the root has fans here as well.  Here's more info and some recipe suggestions for the culinarily curious about Celeriac.
• Organic Fuji apples, $1.19/lb. (reg. 1.99)
• Organic Celery Root, $1.79/lb. (reg. 2.29)
• Organic Pears, $1.99/lb. (reg. 2.49)
I'm an experimental eater and one of the few fruits and vegetables that I've never tried is celeriac.  I might give it a go this week if I make my way to Three Rivers.