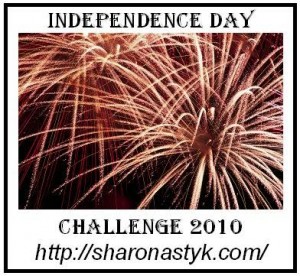 We participate in Sharon Astyk's Independence Days Challenge.
Mornings were crisp, afternoons were cool and comfortable, and evenings were cold and cozy.  We made the move from spending our nights downstairs to upstairs this week.  Every year when the weather is warm, we move downstairs which is partially underground, to stay comfortable.  When the weather starts to cool, we return to the upstairs with warm quilts and comforters. 
I don't think that we ever hit frost point at our house this week, but the weather called for the possibility.  Every year at this time I have the same inner dialog.  "You need to get out there and pick those _____ (fill in the blank, this year the food was tomatoes)…But maybe it won't frost.  Do I really have time to deal with all of those tomatoes right now?  Ah, let them stay on the plants for another night."  The next morning, "It didn't frost, whew!  I really have to pick them now because I'm pressing my luck.  Remember what happened last year?"  (Last year the freeze hit and they were mush the next morning—good for the compost pile but not much else).  On Saturday at dusk I went down to the garden, having had this inner argument for too long.  I picked about 3 gallons or more, came inside and immediately said to my husband, "Don't let me waste these.  If I don't get to them tomorrow, they'll just sit on this table and rot."  I did get to them on Sunday, as you'll see below.
Plant— Nothing planted this week, though I should have planted garlic.  Yep, there was plenty of inner dialog about that one too. 
Harvest—green beans (probably the last of them), green tomatoes, red tomatoes, a few pink ones to ripen inside, parsley, green onions.
Preserve—17 pints of pickled green tomatoes  I pray that the recipe is a good one because I have tons of them. I have more that I'll need to put up, but it was time to trick-or-treat and I needed to stop.
Waste Not/Reduce Waste— I found myself not composting as much this week, and I need to work on keeping the composting routine. 
Want Not/Prep/Storage—I cleaned out the pantry this week.  I took stock of how many home canned goods we might be able to share this Christmas with friends and relatives.  Doing so also pushed me over the edge and got me in gear to make the pickled green tomatoes.  I shared a few goodies with my dad that needed using up and I was afraid we might not make it to in time. 
Hubby and I have been painting my dad's house.  A couple of weeks back we painted the main color.  This weekend we painted the gables (Hubby) and the base of the house/bottom part.  (I'm sure that there is some architectural name for that part, but alas, I am not an architect and can't name it).  Since I had a pretty extensive stretching and core/back workout at yoga the previous day, I was very, very happy to paint the last stroke of the day.  Whew!  It was a tough job, but it looks 400% better.  If priced the paint job and the work alone was going to be $2000!!!  We were happy with a meal of meatloaf, mashed potatoes, and green beans and the smile on his face when he saw the finished result.  I think about how much he has done for me in my life, and it is so nice to know that I'm able to do a little for him in return. 
Building Community Food Systems— I went coupon shopping for the church food pantry this week.  I was able to stock up free toothpaste, cheap cereal and oatmeal, and some canned goods thanks to sales and coupons.  I organized the pantry checking dates, making up some more food baskets for easy distribution, and setting aside items for our holiday baskets that we hand out each year. 
A friend and I made the children's meal at church on Wednesday night and had a blast planning and making it.  We dressed as really bad lunch ladies—I was Svetlana with my unibrow and she was Maude with her mole and tons of lipstick.  The kids thought it was a hoot. 
Eat the Food—I'm very impressed that Hubby made pizza dough for the pumpkin shaped pizza on Halloween.  I was still messing with the tomatoes, and he started the dough.  It was some of the best I've ever had, and I was thrilled that he gave it a shot.  Thanks again Sweetie!