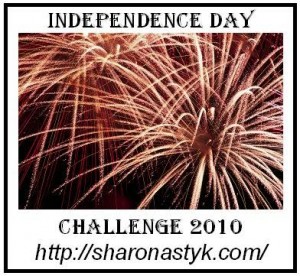 We participate in Sharon Astyk's Independence Days Challenge.
I spent much of this weekend recovering from surgery.  One of the perks of being in the hospital is I was able to watch lots of Food Network and flip through my seed catalogs and gardening books.  I was so inspired to get in the kitchen or get my hands dirty in the garden, and alas, I can't do it yet.  I began making a few notes in my gardening journal on types of seeds and sources. 
I know I have mentioned having surgery but haven't gone into much detail.  I promise I'm not trying to be cryptic, and I do appreciate all of you who have emailed me to check and see how I am doing.  I was telling one of the readers that you all have become an extension of my friends and family.  However, because I'm a social worker, I try to keep boundaries of how much personal information I share here.  I don't want anyone to feel burdened.  I mentioned the surgery in the meal planning post because when we aren't feeling well, meal planning can be a struggle.  I mention it in this post because of how wasteful I noticed hospital settings being.
Plant— Nothing planted this week
Harvest—Other than kindling and a bit of firewood being collected, there wasn't anything harvested
Preserve—Nothing harvested this week
Waste Not/Reduce Waste— I was a little appalled at how wasteful hospitals are.  There wasn't an option for recycling that we could find.  Disposables were everywhere.  I know that there is a movement among hospital associations to try and be greener, and I'd like to do some more research to find what local hospitals are doing to move towards this in Knoxville.
We still haven't turned on the heat at the home and haven't had a bit of problems.  Later this week, the weather is scheduled to be much colder.  We'll see if we can hold on to December 1st as we had hoped.
Want Not/Prep/Storage—Hubby chopped some of the fallen wood from a windstorm we had earlier in the week.  I stacked firewood under shelter so that it would dry out.
Prior to going to the hospital, I did what I could to get the house in order, prep for Thanksgiving, and clean up. 
Building Community Food Systems— I made up holiday boxes for the food pantry at church.  I helped a friend prepare the meal for the kids on Wednesday night, using some of the foods we had preserved from the church garden this summer to feed the kids.  A friend made me some elderberry syrup for pre and post op to boost my immunity.
Eat the Food— It always is such a comfort to have people who bring you food when you aren't feeling well.  My cousin brought us jambalaya and pumpkin bread, which definitely helped me to feel better.