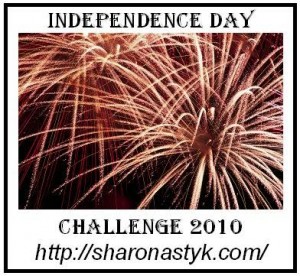 We participate in Sharon Astyk's Independence Days Challenge.
The weather has turned cooler this week.  We had our first official frost at our home, and the garden reacted.  The tomato and okra plants have drooping limbs and leaves, but the cabbage is green and pert.    
As I write, the temperature in our home is reading 58 degrees.  I sit with warm clothes on and a rice bag heated on my lap.  I think about how lucky I am to be able to choose to keep the thermostat set low and to delay turning on the heat.  (We keep ours set to 50 to prevent pipes from bursting and try to delay turning it up until late November with December 1 always being the goal that we never seem to be able to make.) We have a pretty well insulated home with reasonably new windows and doors.  We have a fireplace that where I could start a fire if I wanted.  There are so many in our area who do not.  Their homes become much cooler than ours when the temperature outside dips.  Many must choose between warming their homes or filling their prescriptions or buying food.  I see it every year as a social worker and church volunteer, and with the recession, the need has been even greater. 
This last weekend, I made a trip to Memphis to surprise my sister for her birthday.  While there, we drove by my grandmother's home, which is still on the market.  We did a little raking and tidying, and as I was doing it, I was aware that it was probably my last act that I will perform for her.  As many of you know, she passed away late last November, and she is sorely missed.  As I started raking, I noticed that there were still pears on her trees, the trees that my grandfather and father planted almost 20 years ago.  I picked what I could reach, and as we ate some of the pears that night, I realized that the favor had been returned.  The meal was my grandfather's last gift to us.   The pears were his loving gesture to provide for us--even after his death he was still feeding us from his garden.
Plant— Garlic is going in the ground today
Harvest—green onions, parsley, a couple more bell peppers, potatoes, a few more tomatoes, and the pears from my grandparents' home.
Preserve—Nothing preserved this week
Waste Not/Reduce Waste— We are playing chicken with turning on the heat.  I saw that the weather will be a bit warmer towards mid week, which should help. 
Want Not/Prep/Storage—My cousin passed a few clothes on to me when I saw her in Memphis.  The church was having a bazaar/rummage sale this weekend.  I did a little pre-shopping and picked up a couple of books for our daughter and a brand new bathroom set (garbage can, soap dish, etc) for my dad's house. 
Building Community Food Systems— A friend and I continue to make the meals for the children at church on Wednesday nights.  This week we'll have a few foods that I preserved from the church garden this summer and will talk more about Harvest.
Eat the Food—The pears were my favorite food that I ate this week.  I cooked them in a light syrup (sugar and water) with about a teaspoon of cinnamon and a few tablespoons of butter.  They stewed for about an hour on low/medium low heat.  They were perfect!