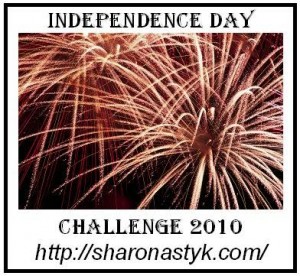 We participate in Sharon Astyk's Independence Days Challenge.
The weather was reasonably warm in our area this week.  We had a cold spell last week, then the highs were at or around 70, then on Sunday it rained and turned colder again.  That's East TN weather in the fall for you.
I enjoyed being in the garden this week.  It feels so good to be productive and to feel your body working for a good purpose.  While I didn't do all that much work, the simple acts of carrying firewood and kindling and tending to the garden quieted my spirit and stretched my muscles.
Plant— I finally planted the garlic…finally!  I planted 5 bulbs worth, which is more than twice as much as I planted last year.
Harvest—green onions, parsley, a couple more bell peppers, jalapenos,  a handful or two of green beans that I found still hanging on, lettuce, Chinese cabbages, bok choy, and lima beans
Preserve—A few green onions and parsley were frozen.  The lima beans only amounted to about a cup's worth when I shelled them.  I decided to freeze them and save them for the next time I make a pot of soup.  They were the Christmas lima beans, and I must say that they make me happy every time I shell them. They are such beautiful beans!
Waste Not/Reduce Waste— We still haven't turned on the heat.  We've only had a few fires, and for the most part, the weather hasn't been to cold to merit more than that. 
Want Not/Prep/Storage—I cut down the okra since it was spent.  I didn't pull the plant in hopes that the roots will rot and help to aerate the soil—this is an idea I read in Mother Earth News and whenever possible I try to cut rather than yank a plant.  I added rotted straw to the beds for both a mulch and a soil amendment.  I carried firewood up from the back yard, what we jokingly call the lower 40, and put it under shelter to let it dry.  I began gathering more kindling for fires.  I finally weeded the grasses around the blueberry bushes, and Hubby used the weed eater to finish the job.  They look 100% better!
We bought my dad a ceiling fan for his birthday, and Hubby installed it.  My dad was thrilled!
Building Community Food Systems— We brought the makings of stir fry over to my dad's house to eat.  He practically did a happy dance when eating the dish, and it was so nice to cook and prep with him in the kitchen.  I worked in the food pantry a bit and plan to work more extensively this week to make holiday boxes for distribution.  I did a little shopping with coupons.  In beginning to plan our fall garden, I have been thinking about what plants that I could grow to donate to others. 
I made it to the farmers market for the first time in ages this week.  It was so lovely to be there and visit with farmer friends.  I picked up some meat, milk, sweet potatoes, and radishes while there.
Eat the Food—The stir fry with cabbage, green beans, peppers, onions, bok choy, garlic (dry storage), and zucchini (frozen) from our garden was delightful.