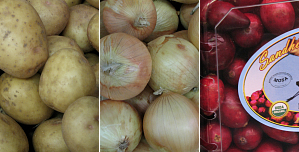 Just in time, three indispensible ingredients for Thanksgiving dinner on sale at Three Rivers Market this week.  Stock up now and be ready to roll when the big day gets here.
• Organic Yukon Potatoes, .99¢ lb. (reg. $1.19, save 20¢)—very good price for organic!
• Organic Yellow Onions, 79¢ lb. (reg. .99, save 20¢)
• Organic Fresh Cranberries, $3.29 ea. (reg. $3.99, save 50¢)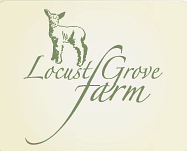 This coming Thursday, November 18, from 3 to 6 pm Three Rivers Market be sampling cheese from Locust Grove Farm.  A quick read of the label from any of their locally produced, made by hand cheeses and you'll see why its one of Knoxville's favorites: "...raw sheep's milk, cultures, vegetable rennet, organic sea salt and nothing else.  Our milk sheep receive no antibiotics and no hormones.  The flavors are all natural, created by the actions of living, natural milk as it is turned to a curd and allowed to age in our cave environment.  You will be amazed at what nature does when left alone."
Currently, Locust Grove produces 4 different styles, (and Three Rivers Market carries them all): Galloway Appalachian Spring, La Mancha, & Cumberland.  Check out the Locust Grove Farm website for more details and tasting notes and make plans to stop by on Thursday and meet the folks who make it. 
While this cheese is more expensive than some others you'll find on the refrigerator shelves, it is sharp, yummy, and made with very high quality ingredients.