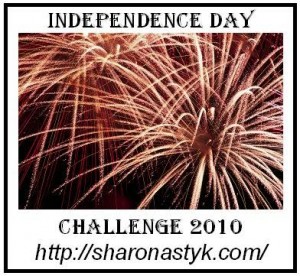 I'm always a sucker for a good challenge, and we have been a part of Sharon Astyk's Independence Days Challenge for well over a year now. While I don't always post on her site (I don't always remember to), I do like to look at what others are doing in these categories from around the world.  It serves as inspiration and gives me all sorts of ideas for our home and garden.  Below is the update from this week, though this time of the year there isn't too much to report.
Winter Solstice is here, though the weather has felt like winter for a few weeks now.  We had some icy weather last week and then things have warmed up a little bit.  We've been at highs in the 30s and 40s most days. 
Today the weather was drizzling rain, cloudy and grey.  As I look out our office window, I see the dying black walnut tree towering over the other trees and bushes in the "Lower 40".  I am so going to miss that tree and how it is so perfectly framed in this window as I write.  The structure and consistency it offered in our landscape has made it among one of my favorites of our plants.  Yet now it looks almost eerie with its gnarled fingers reaching out as if to hold on to other trees in a vain attempt at hanging onto its life.  Many of its arms are broken and jagged—its demise to the Thousand Cankers Disease is such an unjust end.   This time next year I'm sure we will have cut it down.  The void left will be more than just an empty place in the yard.
Christmas is almost here.  I've had a very busy last few weeks, and I'm hoping that while there will still be some hustle and bustle, we are settling in for a week or so of cozy days, relaxing nights, and time spent with those we love. 
Plant— Nothing planted this week
Harvest—Rosemary and green onions
Preserve—A few chopped onions made their way into the freezer.
Waste Not/Reduce Waste— I've been doing a little worse in this category because I've been driving around town more this week.  I have been checking in at the nursing homes and assisted living facilities in our area to drop off gifts for our clients.  While I've done my best to not idle my car and make my route as short as possible, I'm sure that I've used much more gas than I would otherwise.  Am I sorry, no.  The joy that it has brought to people to get a little gift is well worth the time and consumption.  I'll make an effort to off-set that gas usage by spending a few more days at home in the next few weeks. 
Want Not/Prep/Storage—I did a little overhaul of the house right before a few parties, but other than that, nothing new in this area.
Building Community Food Systems— I continue to work in our church's food pantry.
Eat the Food— I tried 3 new cookie recipes, which I hope to post for you all in the next few days.  All were quite good, but there wasn't anything healthy about any of them.  Hey, they are cookies! 
For the Anyway Project categories, you can check my post here.  Another one of Sharon's challenges focuses on making your home and lifestyle more sustaining.  Below is an update on our goals in each of the categories:
Domestic Infrastructure: GOAL--Clean out the laundry room and the freezers.  Both goals were accomplished.  I found quite a few linens I had forgotten about storing in the laundry room, and since many were Christmas themed, it was perfect timing.  I found a couple of Italian sausage packages we had bought from a local farmer a few months ago in the back of the freezer.  What a pleasant surprise!
Household economy: GOAL—reduce restaurant and entertainment spending.  Begin getting tax stuff together.  UGH!  We didn't do so hot in either of these categories.  It is so darn easy to head to a restaurant when I'm tired or when I forget to pack a lunch.  It has gotten out of control, and I know that it will be up to me to fix it.  I'll continue with this goal in January.
Resource Consumption: Goal--compost everything I can, keep our heat off until December 1.  We did keep our heat off until Dec 1, and only then have we turned it up to 63-65 degrees when we are home and 55 when we are away.  I had a few friends over for a cookie swap and was afraid they'd be too cold so for a couple of hours I turned it up to 69.  I have also done really well with composting, even when it was snowy and icy! 
Cottage Industry and Subsistence: GOAL—monetize the blog and reduce outside spending with gift baskets of home canned foods.  I talked to my Hubby about the monetizing of the blog.  I think I've been so resistant to the idea because I don't want the blog to feel like work.  It is one of my favorite hobbies at this point, and at least for the time being, I've decided to keep it that way. 
All of my work friends, many friends, and most family members received home canned items as most or all of their Christmas gift.  In some of the gift baskets I included some organic sparkling juice, some of the chocolates I had scored for pretty cheap at Walgreens, and a small wrapped gift for each of them (jewelry, gift cards to local stores, games, etc).  For others we had decided to keep the gift giving at a minimum, and they received a little assortment of some of my pickled foods, cranberry mustard, and jams. 
Family and Community: GOAL--to have one playdate for our daughter and one dinner party at our home before the end of the year. Goal accomplished!  Our daughter had a slumber party with a friend from church.  We had a cookie swap that was on a day where the roads were icy, but one friend and her family managed to make it up our hill.  They stayed the afternoon and enjoyed lunch, cookies, and plenty of playtime.  At the Winter Solstice dinner party we had 10 adults and 6 children, which is close to the max that our medium to small sized house can handle.  Everyone helped with the food, and the meal was scrumptious.  At the last minute I decided to make a smoked trout dip that was so good that I ate the leftovers of it the next two days for BREAKFAST.  ;0)  It is a friend's secret recipe, so I'm afraid I can't pass it along. 
Outside Work: GOAL—continue to work at balancing the time that I spend working from home, return to a regular exercise schedule that allows me some de-stressing time in between work, start tracking the amount of time I spend on the computer so that I can work on making my time there more efficient.  I was regularly exercising up until this week.  I haven't carved out as much time to do it this week, but now that I'm reminded of the goal, I'll get back to it.  Finding balance between work at home and reducing computer time is difficult.  I noticed that last week I wasn't on the computer much at all (hence the reduction in my amount of posts).  Finding balance will always be a goal on which to work.
Time and Happiness: GOAL--make an effort to regularly schedule in time for me exercising, running errands, spending time with friends, etc. Have at least one date night between now and the end of the year.  I've done a little better with my schedule.  Again, though, finding balance in all of it around the holidays is hard.   Hubby and I still haven't made our date night happen, but we received some free movie tickets through my work and might use those sometime soon.
Not sure what my goals for January will be yet.  I'll ponder and post those closer to January.