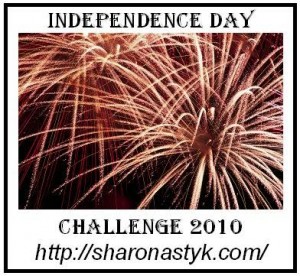 We participate in Sharon Astyk's Independence Days Challenge.
The snow started laying on the ground last night, and this morning there was a white blanket covering our part of the world.  Hubby, daughter, and I were delighted in having a snow day and played outside until our hands were numb. 
Plant— Nothing planted this week
Harvest—Nothing harvested this week
Preserve—Nothing preserved this week
Waste Not/Reduce Waste— A friend was cleaning out his office storage and donated some electronic equipment that we can use at our church.  Hubby and I were pleased when we looked at the utility bill to see that this month was about $70 cheaper than last year at this same time.  The heat in the house is set at 55 when we are gone, and between 63-65 when we are here.
Want Not/Prep/Storage—Since we've been keeping the heat set to low, we build a fire most evenings.  The same friend who was cleaning out his storage area had a bunch of firewood leftover from a recent move into a home without a fireplace.  He gave us about a half a truck load of excellent firewood!   What a wonderful gift!! 
It was time to buy a new mattress.  We did all we could to make the one we have last as long as we could.  We opted for an eco-friendly choice and have made sure that our old mattress will either be donated to a local charity or that the steel will be recycled if it cannot be used. 
Building Community Food Systems— Not much new in this area to report this week.  It was a pretty low key week.    I did talk to my dad about having a garden at his place this year, and he is game.  I think it will be a good project for him, and since he also likes to can, it will give him some projects for the kitchen too.
Eat the Food— I made some molasses cookies from locally made molasses this week.  I love those cookies and will try to post the recipe soon.  I'm looking for some other good cookie recipes if any of you have any that you would like to share.  E-mail me or leave a comment here if you do.