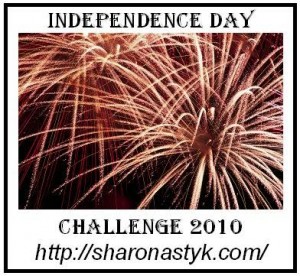 We participate in Sharon Astyk's Independence Days Challenge.
SNOW!  On December 1st, we received our first snow of this late fall/winter season.  We've had a few other days with spitting snow, but today we awoke to snow covered roads and grass.  As I write (around 10:30am) most is starting to melt off of the sunny areas. 
Plant— Nothing planted this week
Harvest—Parsley, lettuce, kindling for the fires
Preserve—I'm so glad we harvested the rest of the parsley when we did because I never know if it will survive a hard freeze—sometimes it surprises me and bounces back, sometimes it almost melts after the temperature warms.  I chopped and froze about a quart or so worth.  I chopped and froze a few green onions as well. 
Waste Not/Reduce Waste— When cleaning up the garden this morning, I noticed a lot more tomatoes that went to waste than I thought we would have had.  There were a few bell peppers, too, but since those get bitter near the end of the year that wasn't much of a loss.  I set the tomatoes in a special place to compost because I noticed a bit of blight on the cherry tomatoes this  year and want to avoid that spreading in future years. 
Want Not/Prep/Storage—I yanked the tomato cages, cleaned them off, and put them in the potting shed.  I cleaned up the rest of the pole beans and bell pepper plants that had frozen.  I carried a bit more kindling and some of the firewood to the back porch so that it would dry.
I added a few things to storage that I caught good deals on—Walgreens had French Fried Onions marked down to 99cts and I had a 50ct coupon.  I also bought some brown sugar there at a good price.  I picked up some natural cereal at Kroger, too.  On the other side of the coin, I completely ran out of olive oil!  YIKES!  I thought I had another jar of it in storage, but when I looked it was nowhere to be found.  I picked up a Kroger brand of it, which was the best price I could manage without planning ahead.  It was terrible—I mean, really bad.  With their store brand promise, I brought it back to exchange it for a name brand.  The clerk gave me my money back, and I "bought" another brand for free.  Now I have a little leeway while I look for a good price on higher quality or organic. 
I'm near the end of our year's supply of maple syrup.  If any of you see a good deal, please let me know!
Building Community Food Systems— I made up holiday boxes for the food pantry at church. Sharon, one of the blog readers, met me at the church last week with some fantastic donations for the food pantry.  It absolutely brightened my day that she was willing to share her extras with those in the community whom we serve. 
We had a few communal meals this week, which is always nice.  We met my dad at his place and had lunch with him (homemade soup and bread and he made a peach pie).  We had a potluck at the church on Thursday.  A friend and I prepare the food for the children on Wednesday nights there.  Last night we had our United Methodist Women's meeting where we made baskets for the shut ins, and we had a bit of party food there, too. 
I placed an order with our Frontier co-op, and it will be good to have stocked up on some spices and such that I needed.  I'm still trying to reach our milk farmer about having a co-op for the winter months with her.  
Eat the Food— The lamb stew that I made was really delicious (if I do say so myself).  Other than the carrots, the other ingredients were locally produced or from our home garden.