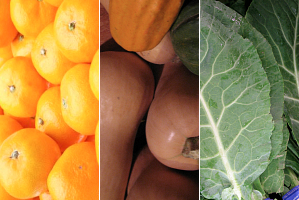 Produce specials: Dec.19 - Jan. 2
Organic Satsumas, $1.99 lb. (reg. $2.49, save 50¢) So sweet is the Satsuma, it is known as 'honey citrus' in certain locales.  This is the fruit associated with winter - love it.
Local Butternut Squash, $1.39 lb. (reg. $1.69/lb, save 30¢) Straight from Jeff Poppin, the Barefoot Farmer and biodynamic pioneer.  Forget about how weirdly beautiful they are, this is a rockin' vegetable that responds well to blanching, roasting, and just about anything you can think of.
Organic Collards, $1.79 ea. (reg. $2.29, save 50¢)  Genetically similar to kale, collards have a distinct southern association.  (We may have Granny Clampett to thank for that.)  In any case, they're extremely tasty, easy to cook and packed with nutrients.
Three Rivers Market is one of the Co-op Advantage stores.  For matchups on their bi-monthly sales ad, check Money Saving Maine-iac's post here.