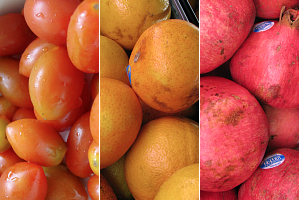 Three Rivers Market Weekly Deals:
Did you know that a full 1/3 of our current offerings are local?  Or that we have the only 100% natural and organic, pesticide-free produce dept. in town?  Uh huh.  And we plan on keeping it that way...  This week's specials:
Organic Grape Tomatoes, $2.49 ea. (reg. $2.99, save 50¢) Monster-size flavor out of these tiny little gems.
Organic Tangelos, 99¢/lb. (reg. $2.29/lb, save $1.30)
Juicy, sweet, loaded with the vitamin C.
Organic Pomegranates, $1.49 ea.. (reg. $1.99, save 50¢) I'm so excited to see this price!  These pomegranates will be great for a salad I'm planning for our annual Winter Solstice dinner party!!