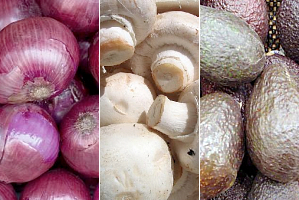 Momma likes her avocados!  I am thrilled to see this price for organic avocados!!
Here is the info from Three Rivers Market:
Produce specials: Jan. 10 - 16

Organic Red Onions, $1.29 lb. (reg. 1.79 - save 50¢) these brilliant globes offer health benefits that helped classify them as one of the world's healthiest foods.

Organic White Mushrooms, $2.79 lb. (reg. 3.49 - save 70¢) moving past their undeniable 'cuteness', these versatile little spawns of spore add class and flavor to any dish.  Hint: don't wash them, just brush them off before using.

Organic Avocado, $1.29 ea. (reg. $1.69 - save 40¢) a strong candidate for unofficial 'favorite fruit' status at TRM, avocadoes make anything better.  Jazz up sandwiches, mash them into guacamole, sprinkle with a little salt and lemon and treat your palate to a moment of unparalleled sensuality.  Yes, we love them.
Starting on Wednesday, the Co-op Advantage stores (TRM being one of these) will have organic rolled oats priced at only 79cts/lb—a fantastic price!