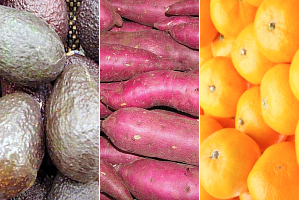 Below are some delicious deals at Three Rivers Market.  Don't forget that you can also go to the matchups for the Co-op Advantage Stores, TRM being one of these.
Produce specials: Jan. 17 - 23
OG Avocados, $1.29 ea. (reg. $1.69 - save 40¢) High in fiber, rich in vitamins B, E, and K, and endowed with 60% more potassium than bananas... what more could you want?

OG Japanese Sweet Potatoes, $1.79 lb. (reg. $2.49 - save 70¢) In 1992, the Center for Science in the Public Interest compared the nutritional value of sweet potatoes to other vegetables.  Guess who won?  Sweet potatoes earned 184 points, 100 points over the next on the list, the common potato.

OG Satsumas, $1.79 lb. (reg. $2.49 - save 70¢) Easy to peel.  Really sweet.  About the size of a mandarin orange, but so much more fun to pronounce - go ahead say it: "Satsuma."