UPDATE--I've updated the coupons after the Knoxville Coupon Fair. Three Rivers gave out some amazing coupons! Be sure to use your $1/$5 coupon when shopping!
Below you'll see that there is a $1/1 coupon for Nature's Path products found on store shelves at Three Rivers Market. The coupon expires 2/28/11. I highly recommend buying a case of either of the two products that are on sale this month if your family uses instant cereal or frozen waffles. The coupon and case discount makes it an excellent price for organic!!!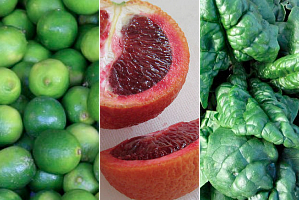 Three Rivers Market has made their produce deals coincide with the 2 week Co-op Advantage Store sale ad, and these deals will be available through 3/1/11:
Produce Deals: Feb. 16 - March 1
OG Limes, 5 for $2 (reg. 45¢ ea. - save 25¢) One of our favorite smells, colors, and ingredients in any culinary endeavor. Also reportedly famous for making Gin and Vodka and Tequila more compatible for humans.
OG Blood Oranges, $2.49 lb. (reg. $2.99 lb. - save 50¢) In the kingdom of citrus, blood oranges are royalty. Every bite is an explosion of sweet, deep orange flavor, with hints of raspberry.
OG Spinach, 1 lb. for $5.29 (reg. $5.99 - save 70¢) Well known as a regular part of Popeye's diet it's also one of the most nutritious vegetables around, packed with antioxidants, vitamins and minerals in each leaf. Great raw, sautéed, steamed and consumed shortly thereafter.
I am working with Teresa of Money Saving Maine-iac on the Co-op Advantage Stores matchups, adding the coupons that are available in our area to her list. Thank you Teresa for your hard work on these matchups!
Go here to view the Co-op Advantage Sale Flyer. Go here for the list of coupons available in the Co-op Advantage coupon booklet. These are store coupons that can only be used in co-ops.
Don't forget that if you own shares at Three Rivers Market, you can get a case discount of 10% off. They will allow you to use coupons with your case discount, making your deal even sweeter!
Cascadian Farm Organic Cereal $2.99, use $ .75/1 @ $1.00/1 Cascadian Product - with sign up, $1/1 coupon from the Knoxville Coupon Fair
Muir Glen Fire Roasted Tomatoes 28 oz. $2.29, use $1.00/2 @ Betty Crocker or Pillsbury , $1/1 coupon from the Knoxville Coupon Fair
Lundberg Family Farms Organic Brown Basmati Rice 32 oz., use $ .75/1 in CO-OP Advantage Coupon Book
Barbara's Crackers $2.79, use $1.00/1 Barbara's Product @ Barbara's Bakery
Pacific Soup 17.6 oz. $1.99, use $1.00/1 Pacific Naturals Soup or Broth @ Pacific Natural Foods
Boca Meatless Burgers $2.99, use $1.00/2 @ Boca Burgers or Smart Source or in the 1/2 SS
Seventh Generation Liquid Laundry Detergent 50 oz. $6.99, use $1.00/1 Seventh Generation Product @ All You or in the 1/23 RP, $1.00/1 Seventh Generation Household or Personal Care Product @ Seventh Generation, $1.00/1 Seventh Generation Laundry Product when you buy Seventh Generation Dish Products @ Seventh Generation
Arrowhead Mills Pancake & Waffle Mix $2.89, use $1.00/1 Arrowhead Mills Product @ Arrowhed Mills
Stonyfield Organic Smoothies $1.49, use $ .50/2 @ Stonyfield
Cascadian Farm Organic Fruit Spread $2.29, use $1.00/1 Cascadian Product - with sign up
Greek Gods Yogurt, $1.19 for 6 oz—their website says that they post coupons to Twitter from time-to-time
Luna Bars 99cts—50ct/1 mailer coupon sent with recent sample offer
Emergen-C, $8.99—Go here to sign up for free samples. These sometimes contain coupons.
Nature's Path Organic Waffles 2/$5, Organic Instant Oatmeal $2.79—Use $1/1 Nature's Path or EnviroKidz product coupons found on store aisles THIS MAKES FOR AN EXCELLENT DEAL FOR AN ORGANIC PRODUCT! I RECOMMEND BUYING A CASE IF YOU HAVE ROOM TO STORE TO GET THE EXTRA 10% OFF!
Bulk:
Organic Oats $ .89 lb.
Thompson's Raisins $1.99 lb.