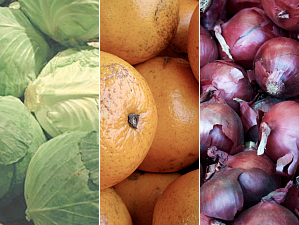 Produce Specials: March 16 - 29

OG Green Cabbage, 99¢ lb (reg. 1.99 lb. - save $1) Just in time for St. Patrick's day of feasting. The humble cabbage may be boiled, stuffed, stewed, juiced or used as the 'head' of an effigy. Any way you go, they're loaded with vitamin C, fiber, and possibly cancer-fighting compounds to boot
OG Oranges, Navel & Valencia $1.29 lb. (reg. $1.69 lb. - save 40¢) Gaze at these Navels and know why they remain one of the favorite forms of citrus on the planet. However, the Valencia is no slouch. Sure it has a few seeds, but the juice and flavor is well worth it.
OG Red Onions, 1.29 lb. (reg. $1.79 - save 50¢) These beauties have a mild to sweet flavor. May be consumed raw, grilled or lightly cooked with other foods, or added to salads. Curiously, they tend to lose their redness when cooked.
I might take advantage of this sale and make some of my red
onion relish
—yummy!