Money Saving Maine-iac has posted the deals and matchups for the most recent store flyer for Three Rivers Market, our local Co-op Advantage Store.  Some of my favorite deals are below with another couple I added.  Be sure to check out the entire list of deals here.
Kashi Organic Cereal $3.29
- $2.00/1 Kashi Product @ Recyclebank - 125 points printable
- $1.00/1 @ Kashi
As low as $1.29 after coupon
Seventh Generation Dish Liquid $2.50
- $ .50/1 Household Product @ Seventh Generation
- FREE Seventh Generation Dish Liquid - 50 points @ Seventh Generation Rewards mailed offer
(Remember to bank your code @ Seventh Generation Community)
$2.00
Luna Bars $0.99
- $ .50/1 printable coupon from Mambo Sprouts (no longer available, but the coupon I printed hasn't yet expired)
$0.49
RW Knudsen Organic Juice $2.99
- $1.00/1 @ Mambo Sprouts (if Just Juice variety included)
As low as $1.99 after coupon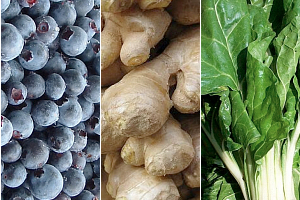 In addition to the deals above, Three Rivers Market also has the following produce specials from June 15 - June 28
OG Blueberries, $4.29 pint. (reg. $4.99 - save 70¢) The superfruit of summer. Sweet, juicy and packing a serious supply of antioxidants and vitamin C. Put 'em on cereal, or on your tongue and the world seems a better place, instantly.
OG Ginger, $4.99 lb. (reg. $6.99 - save $2) Long an herbal remedy for nausea, morning sickness and digestive problems, Ginger also contains vasodilators, ACE inhibitors and diuretics, all useful in reducing blood pressure and keeping the circulatory system humming along in fine form. Tastes and smells great too!
Local Chard, $1.99 ea. (reg. $2.69 - save 70¢) We'll be carrying Chard from Martha Snyder in Jefferson County (CNG) and also John Ledbetter in Loudon County (OG). All of it is loaded with vitamins A, K, and C and also rich in minerals, dietary fiber and protein.